architecture - engineering - construction
Hydrophilic and Mastic Waterstops from JP Specialties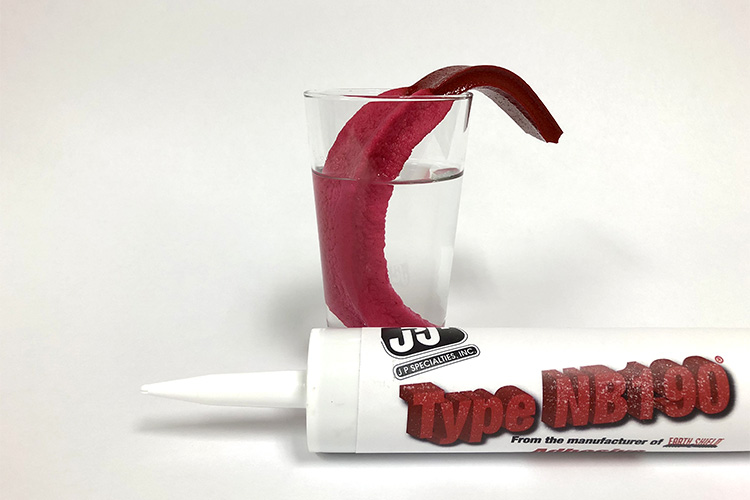 Modified Chloroprene Hydrophilic Waterstop
Type NB190® is a modern, hydrophilic chloroprene rubber waterstop with unmatched durability and water sealing capabilities. Manufactured NON-BENTONITE, modified chloroprene rubber, Type NB190® more than doubles its original size (400% in 36 days) when exposed to water. This expansion creates an effective compression seal within joints of limited to no movement. Type NB190® can expand and reexpand unlimited times with virtually no loss of physical properties. Additionally, Type NB190® has excellent resistance to many chemicals, is heat-resistant, and is safe for drinking water.
Earth Shield® Modified Chloroprene Hydrophilic Waterstop is used as a fluid-tight diaphragm, running along the joint, for water treatment plants, wastewater treatment plants, and fluid containment structures. Earth Shield® Modified Chloroprene Hydrophilic Waterstops are intended for non-moving construction joints only.
Chemical Resistant Strip Applied Waterstop
Earth Shield® CR125 Chemical Resistant Strip Waterstop is designed to prevent the passage of aqueous hydrocarbons through non-moving concrete joints in environmental engineered concrete structures. The product aggressively bonds to most substrates and is unaffected by rain or wet conditions during installation.
Mastic Waterstop for Concrete Cold Joints
Earth Shield® Type 10 is a high-quality, self-sealing mastic waterstop which prevents water from penetrating non-moving joints in concrete construction.
Hydrophilic Butyl/Bentonite Strip Applied Waterstop
Earth Shield® Type 20 & Type 23 Hydrophilic Butyl Rubber Waterstops are designed to swell when exposed to water, yet maintain a solid structural integrity that will not deteriorate due to uncontrolled expansion, unlike many of the traditional, clay-based waterstops currently on the market. This swelling ability prevents the passage of water through concrete construction joints. Type 20 & 23 waterstops are fast, easy, and economical to install. Simply apply Earth Shield® Primer to the existing concrete, firmly press the waterstop to the primed surface, and place your second pour of concrete. No splitting of forms or difficult field welding is necessary to achieve a watertight seal.
Waterstop Primer for Earth Shield® Waterstops
Earth Shield® Strip Applied Waterstop Primer is a water-based adhesive primer suitable for Type 10, 20, 23, and CR125 waterstops.
@waterstopking #waterstopking #waterstop #dewalt #concrete

For other relevant searches, you might want to try: