architecture - engineering - construction
Introducing "Pixel" – the building blocks of great design
Maglin, one of North America's leading site-furnishing manufacturers, is bringing a sense of community, playfulness and exploration to public seating design with the launch of the Pixel Collection, an innovative and highly customizable new line of modular site furnishings.

From parks, courtyards and campuses to pop-up street venues and urban micro-gardens, the Pixel Collection can be adapted for a range of public spaces, but its core purpose remains the same: to bring people together.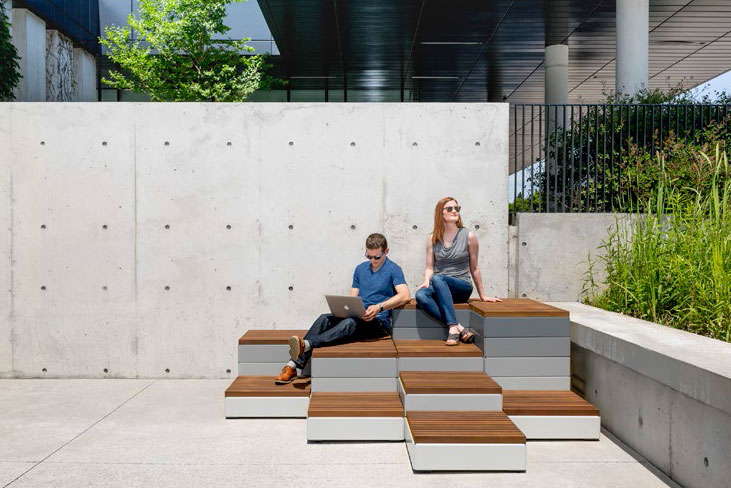 "Our online lives are more connected than ever, but offline, we're growing increasingly distant," said Ian McAskile, President/CEO
and founder of Maglin. "By creating seating that's not only physically comfortable but also socially comfortable and aligned with the social interaction requirements of the space, the Pixel Collection has the potential to break down barriers and transform how people interact."

Inspired by the concept of a pixel and how its square shape allows for near-limitless possibilities in placement and design, the Pixel Collection comprises an interchangeable series of blocks and tops that can be used to create everything from large-scale platform seating to lounge chairs, garden planters, tables and more.

"The Pixel Collection gives you the freedom to experiment with its two heights of building 'blocks' that allow you to stack and place into different configurations, and mix-and-match until you find the one that best fits your needs," said Clayton Mousley, Designer of the Pixel Collection. "Whether that's a place for community members to congregate and interact, a place for colleagues and classmates to collaborate and share ideas, or a contemplative space that feels private, even in a crowd, the choice is yours."

Fast and easy to install, the Pixel Collection is available in a range of sizes, colors, styles and materials. Like all Maglin products, items in the collection are sustainably crafted using high-quality recycled materials, wood from managed forests, lead-free e-coating and other environmentally friendly processes and materials.

The Pixel Collection is now available exclusively from Maglin. For more information, visit www.maglin.com/pixel or email sales@maglin.com.

For other relevant searches, you might want to try: