architecture - engineering - construction
J P Specialties, Inc. waterstop at the World of Concrete 2024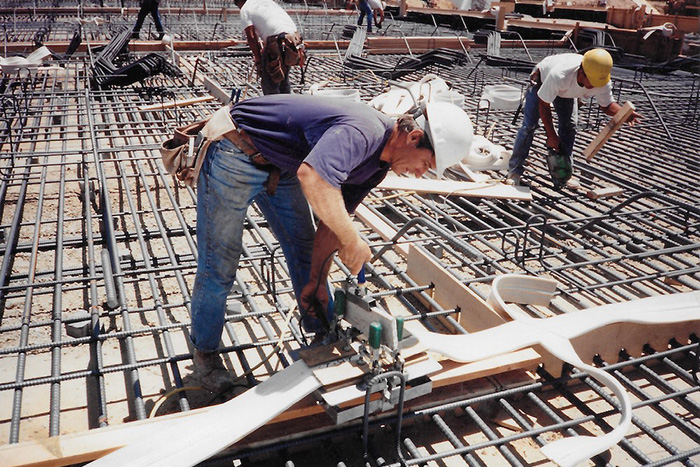 J P Specialties, Inc. is proud to announce our return to the World of Concrete exposition and tradeshow, held January 22nd to 25, 2024, at the Las Vegas Convention Center on the world-famous Las Vegas Strip! You can find us in booth C6806 - WOC GENERAL / MATERIAL HANDLING.
Earth Shield® Thermoplastic Vulcanizate Waterstop (TPV) (aka TPE-R) creates a fluid-tight diaphragm embedded in concrete, across and along the joint, for primary and secondary containment structures. Earth Shield® Chemical Resistant Waterstops resist various oils, solvents, and aggressive chemicals. Alcohol, ketones, glycols, esters, and aqueous solutions of acids, salts, and bases have little effect on Earth Shield® Thermoplastic Vulcanizate Waterstop. Additional certifications include NSF 61-certified, ASTM D471, and CEGS03250.
Earth Shield® Polyvinyl Chloride (PVC) Waterstop creates a fluid-tight diaphragm embedded in concrete, across and along the joint, for environmentally engineered concrete structures. Earth Shield® Flexible PVC Waterstops resist various water and wastewater treatment chemicals. They are certified to meet or exceed the performance requirements of CRD C572-74 and are NSF 61-certified safe for drinking water.
Type NB190® is a modern, hydrophilic chloroprene rubber waterstop with unmatched durability and water-sealing capabilities. Manufactured NON-BENTONITE, modified chloroprene rubber, Type NB190® more than doubles its original size (400% in 36 days) when exposed to water. This expansion creates an effective compression seal within joints of limited to no movement. Type NB190® can expand and reexpand unlimited times without losing physical properties. Additionally, Type NB190® has excellent resistance to many chemicals, is heat-resistant, and is NSF 61-certified safe for drinking water.
Earth Shield® Stainless Steel Waterstop can stop even the most corrosive fluids in their tracks, even at severely elevated temperatures. A variety of metals, grades, and gauges are available. Earth Shield® utilizes 20 gauge 316 low carbon as our standard alloy. It offers broad-spectrum corrosion resistance to most aggressive fluids. It is virtually untouched by the deleterious effects of ozone, making it an ideal choice for ozone contactor structures used in modern water treatment plants.
Keycup® is a multi-function, reusable concrete accessory that securely holds waterstop in place while creating a keyed construction joint. Typical applications include:
Slab on grade
Wall joints
Lumber replacement
Labor saver
World of Concrete is the industry's only annual international event dedicated to the commercial concrete and masonry construction industries. It features indoor and outdoor exhibits with the industry's leading suppliers showcasing innovative products and technologies, exciting demonstrations and competitions, and a world-class education program. Visit www.worldofconcrete.com for details.

Follow World of Concrete on social at Facebook, Instagram, LinkedIn, Twitter, and YouTube for the most up-to-date information on the 2024 expo.
@waterstopking #waterstopking #waterstop #dewalt #concrete

For other relevant searches, you might want to try: