architecture - engineering - construction
KarrierPanel Universal Barrier Wall Solution
KarrierPanel is a cost effective universal barrier wall alternative solution to traditional multicomponent wall systems.

Comprising of a KS Series panel and integrated rail, KarrierPanel is the ideal barrier wall to support secondary rainscreens systems such as metal or brick façades.

KarrierPanel is suitable for all building types in any climate, and combines the thermal benefits of lightweight insulated metal panels with the aesthetics of multiple façades.

KarrierPanel offers a simple, time efficient alternative to traditional multi-part façades, allowing the structure to be quickly closed in to ensure air, vapor and watertightness as soon as possible. Once installed, KarrierPanel provides 100% building envelope performance.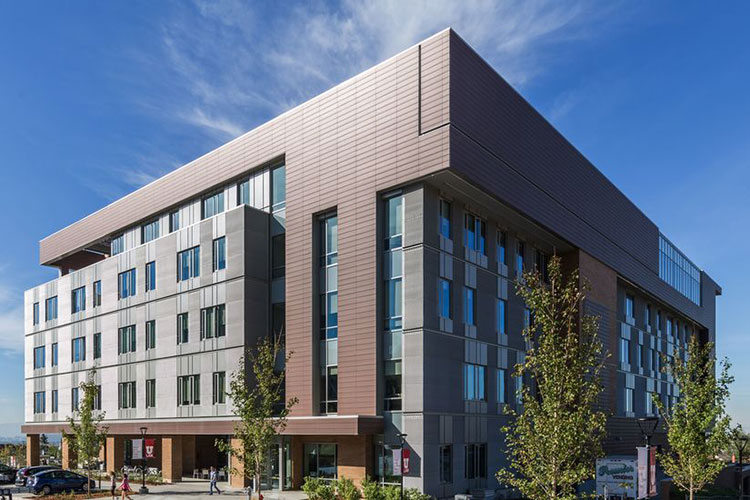 Unique KarrierRail
KarrierPanel utilizes a Kingspan designed unique rail. This stable and secure structural rail safely transmits positive loads from the multiple façades to the structural supports behind the insulated panels.
Similarly, through fasteners secure the exposed rail edge, ensuring that the system safely handles negative loads as well.
The rail has been developed to fully integrate with Kingspan's KS series panel joint. This rail system does not penetrate the air vapor barrier and enables multiple types of rain screens to be attached to the KarrierPanel rail such as brick, single skin metal, and various other systems. Installation is quick, simple and easy, as the rail is installed during normal panel installation, and is secured using standard panel fasteners in a one step procedure.
The standard rail configuration is 16 gauge Galvalume®, 50 KSI steel. Available in various lengths with a 1, 2 and 3 inch bearing surface.
Design Flexibility
KarrierPanel can support a range of rainscreen finishes to compliment any architectural scheme.
Build Speed
KarrierPanel as a single component system increases speed of build, minimizes delays and the need for multiple trades.
Faster close-in and dry-in for reduced building costs.
The single component system results in less labor time on-site and construction waste.
Reduces delays in construction experienced with scheduling multiple trades.
Increase in build speed allows faster project completion and reduces business disruption.
Thermal Performance
The insulated panel provides excellent thermal performance with high R-value and airtightness with an air, water and vapor barrier.
Benefits of the KarrierPanel Wall System Vs Traditional Built-up Construction:
The single component KarrierPanel wall system combines the superior thermal performance of IMPs with an air, water and vapor barrier.
More uniform temperature distribution throughout the wall ensures moisture control.
Eliminates energy losses associated with thermal-bridging cavity insulation.
Eliminates concerns over UV exposure as compared to conventional rainscreen components.
Eliminates the potential for compromising the Air, Vapor Barrier (AVB) and allows for visual inspection and testing of the AVB.
Results in quicker ROI.

For other relevant searches, you might want to try: