architecture - engineering - construction
KoolDuct - Premium Performance Pre-insulated Ductwork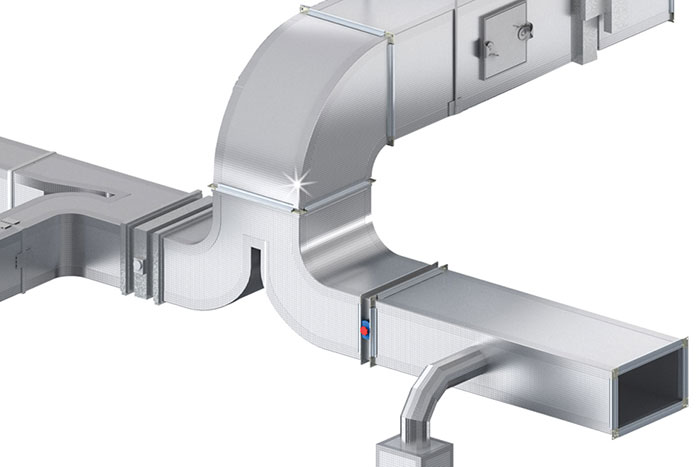 he Kingspan KoolDuct System is an advanced and innovative pre–insulated HVAC ductwork system which offers benefits such as reduced installation time, low weight, space savings through flush–to–ceiling installation, increased performance and energy efficiency.

The system comprises premium performance Kingspan KoolDuct panels, fabrication methods, coupling systems and a complete line of accessories to produce pre–insulated rectangular ductwork in long sections. Ductwork fabricated from The Kingspan KoolDuct System can be installed indoors, outdoors, concealed above false ceilings and below raised floors.

The first rigid phenolic pre–insulated ductwork in the world to be UL 181 listed as a Class 1 Air Duct.
Low air leakage – easily achieves SMACNA Class 3.
A fiber–free, rigid insulation core minimizes the risk of loose fibers entering the airstream through the ductwork, since distributed air does not come into contact with an insulation material that produces loose fibers.
Weighs up to 72% less than ductwork constructed from galvanized sheet metal and insulated with mineral fiber insulation.
Faster installation – single step installation in long sections up to 13 ft.
Space saving – typically saves up to 6-8" in a single dimension and can be installed flush to ceiling.
Reduces energy usage & running costs.
Manufactured with a blowing agent that has zero ODP and low GWP.
@KingspanIns_US #KingspanIns_US #Kingspan #Insulation #MoistureManagement

For other relevant searches, you might want to try: