architecture - engineering - construction
News
LaHabra® Platinum Plus. Less cost. Better performance.
• 30% less cost per square foot than stucco-grade acrylic finish
• 100% higher impact resistance than traditional cement stucco or stuccograde acrylic finishes
Introducing a new hybrid finish more durable than paint, more flexible than stucco and less expensive than stucco- grade acrylic.
LaHabra Platinum Plus hybrid stucco finish adds long-lasting beauty and durability to EIFS or stucco exteriors – and looks good on paper too. Engineered for fewer callbacks with increased crack resistance and improved durability, Platinum Plus is 10% less expensive than traditional stucco and 30% less than stucco-grade acrylic finishes. Platinum Plus is a simple one-base system available in 50 pound bags and conveniently tinted with color bottles.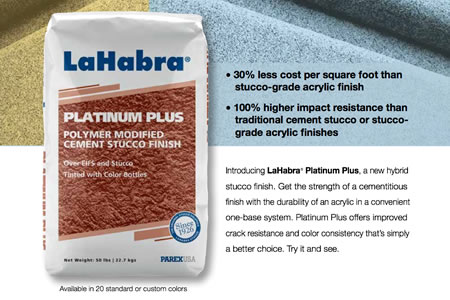 Improved durability - ASTM E2458
Crack and peel resistant - ASTM G154-08 QUV
Increased color consistency - ASTM G23 QUV
Convenient one-base system
Up to 6-year warranty (when used within a LaHabra stucco assembly )
View color samples and technical information at lahabrastucco.com
For other relevant searches, you might want to try: