architecture - engineering - construction
Las Condes Counts on PENETRON in Chile
When faced with a high water table problem at the construction site, the Terralta Los Dominicos project in Las Condes, Chile, specified PENETRON as the waterproofing solution.
An upscale residential development in the Las Condes district of Greater Santiago, Terralta Los Dominicos has a panoramic view of the valley below, including the city of Santiago. The buildings are designed in an elegant urban architectural style; the outdoor spaces are carefully landscaped with gardens and submerged power lines.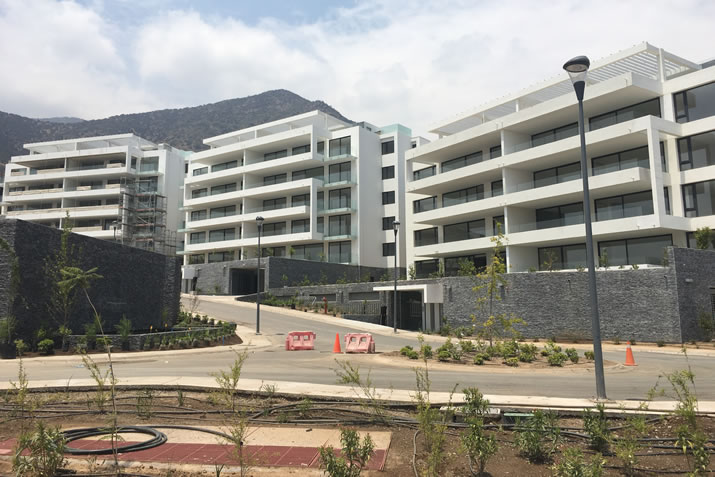 Fabulous views included: The upscale Terralta Los Dominicos project in Las Condes, Chile, specified PENETRON as the crystalline waterproofing solution for the concrete foundation structures.
"The area around Los Dominicos is one of the most desirable locations in the Santiago region," says Domingo Lema, General Manager of PENETRON Chile. "The finish of the construction is of a high standard, nestled in the midst of a natural amphitheater with splendid views."
Terralta Los Dominicos features seven 4 to 5-floor condominium buildings and 40 individual houses. This project also features a large central green space, a community clubhouse and a pool. The expansive condos range in size from 200-280 m2 (2,150-3,000 square feet) and have views of the valley. The private homes, finished in a similar urbanist style, have generous floorplans that are 260-290 m2 (2,800-3,100 square feet) in size.
"Terralta Los Dominicos is located in a mountainous region that endures low temperatures and plenty of precipitation during the winter months," notes Domingo Lema. "In addition to groundwater issues, the project managers also alerted the PENETRON team about potential freeze-thaw cycles that could affect the unprotected concrete."
The concrete used in the retaining walls, basement walls, foundation slabs and all below-ground elements of the communal buildings, condo buildings and houses were treated with PENETRON ADMIX to ensure durable and waterproof structures. The total amount of concrete treated with PENETRON ADMIX was 4,150 m3 (5,420 cubic yards).
"Thanks to the cost savings made possible through the use of a crystalline waterproofing solution and the technical support of the PENETRON Chile team, the Terralta Los Dominicos owners were very happy with the results," concludes Domingo Lema.
The PENETRON Group is a leading manufacturer of specialty construction products for concrete waterproofing, concrete repairs and floor preparation systems. The Group operates through a global network, offering support to the design and construction community through its regional offices, representatives and distribution channels.

For other relevant searches, you might want to try: