architecture - engineering - construction
Lecture Hall Seating Offers Convenience Plus Durability
Lecture Hall
In the college lecture hall or school room, instructors need the ability to incorporate technology into sessions. Students require space for notebooks, tablets, and open books. Chairs with tablet arms fit any setting, featuring choices such as the swivel tablet armchair or chairs with electrical outlets or data ports.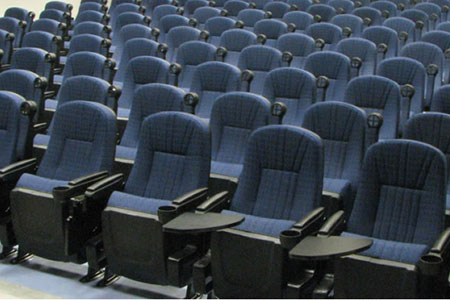 Sitting for long periods in a large, impersonal conference lecture hall can be an intimidating experience for some students. They lose focus and fail to comprehend all of the teacher's lectures and instructions. At Preferred Seating, we took every student's needs into consideration when we chose our lecture hall seating. Our seating systems have many innovative features which include giving educators the ability to create unique seating arrangements that will promote better interaction between instructors and their students.

Lecture Hall Seating Offers Convenience Plus Durability
Students come in various makes and models just like our lecture hall seating. We have tablet arm chairs available in left or right-handed versions. Our seating offers tablet arms in three different sizes: standard, oversize and laptop. And we have arm mechanisms available in fixed, flip up, or fold back styles.
Lecture hall seating cannot just offer convenience, however. It must also be designed to endure years of wear and tear, as well. You will appreciate the rugged durability and versatility of our lecture hall seating, as will generations of student to come.

For other relevant searches, you might want to try: