architecture - engineering - construction
Linear Bar Grilles from Coco Architectural Grilles & Metalcraft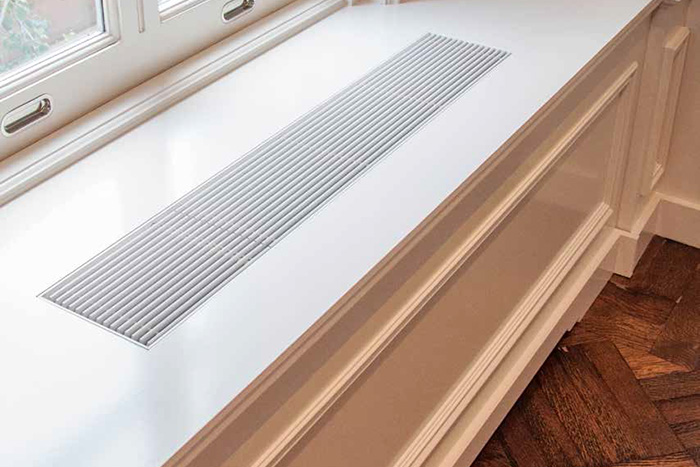 The Linear Bar Grille offerings by Coco Architectural Grilles & Metalcraft are the result of our product development endeavor with a focus on three characteristics: aesthetical quality, performance criterion and installation features. Because our Linear Bar Grille customer base includes architects, designers, general contractors and homeowners, we created a selection of Bar Grilles to accommodate the needs of them all.

Our engineering department is also pleased to provide recommendations and solutions to address your project's Linear Bar Grille requirements. Whether your need is for a reinforced Floor Grille, a removable Metal Wall Grille, a functional Ceiling Grill, or a decorative Panel, we know what is important to you.

If you require a custom color match, a unique bar spacing, a beveled or extra-large flanged frame, removable core, or a standard feature such as an optional access door, our knowledgeable sales team and experienced shop craftsmen are at your service.
Supply & Return Grille Materials & Finishes
Our custom bar grille material options include aluminum, brass, bronze, stainless steel and also steel on occasion. The aluminum Bar Grilles can be supplied in a satin, mirror polish, clear anodize, anodized color, baked enamel color (liquid or powder coat), and a primed finish for field painting.

Our brass and bronze Bar Grilles are not only furnished in satin and mirror polished finishes, but also in several shades of statuary bronze, antiqued, and blackened bronze. Stainless steel Bar Grill options are available in satin and mirror polish or they can be prepped for a secondary plating process but they are also available in a primed finish or baked enamel colors.

Please see our catalogue for a full list of our linear bar grilles, return grill, floor and wall grilles options.
@CocoMetalcraft #CocoMetalcraft #architecture #metalcraft #design

For other relevant searches, you might want to try: