architecture - engineering - construction
Linfen City Library Project, China
The new Linfen City Library in Shangxi Province is located in close proximity to the Fen River and has already become one of the city's landmark buildings.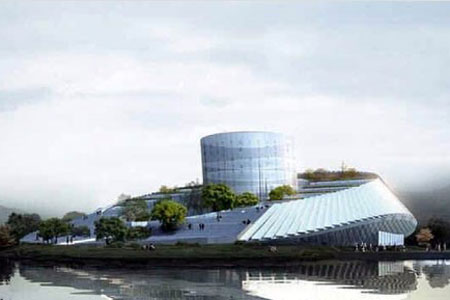 Situated in a lush green space near Xiangyun Lake, the unique design distinguishes the building from its surroundings, including bodies of water spanning over 97,000 square meters (24 acres). The total floor space of Linfen's state-of-the-art library is a stunning 40,000 square meters. This includes 11,000 square meters (118,400 square feet) of archives and 29,000 square meters (312,150 square feet) of library space with a building height of 40 meters (131 feet).

The completely independent, 472 million CNY (71 million USD) archive and library are intelligently merged together as one, blending seamlessly into their environment, while maintaining two separate entrances to each segment of the building.

Due to its close proximity to the Fen River, the project required a permanent and reliable solution to protect its 7,157 square meter (77,000 square feet) basement, which houses an exhibition hall and offices, against any form of water penetration.

Ultimately, the client chose PENETRON ADMIX as the only permanent, self-healing concrete protection solution that met the strict waterproofing requirements put forward by the project designers.

For other relevant searches, you might want to try: