architecture - engineering - construction
M2500 Vertical Fire + Smoke Curtain
Flexibility is the defining characteristic of this fire + smoke curtain. Available in large dimensions, this vertically deploying solution is suitable for atrium separation, openings in walls, and specialty enclosures where fire-rated protection is required. This specialized curtain assembly can be also be specified with manual egress (see M2500E).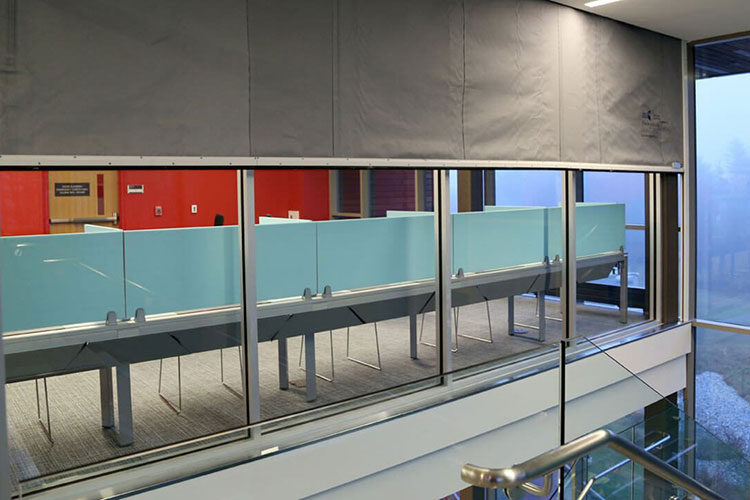 Southern New Hampshire University, Manchester, NH
System Rating
The M2500 system is 2 hour (120 minute) Fire Endurance Rated system complying with the UL 10D standard and listed by Intertek Laboratories. The M2500 | Fire + Smoke system is also rated to UL 1784 and listed by Intertek Laboratories according to the requirements of smoke and draft control assemblies defined in NFPA 105.
Housing dimensions
for systems with drop lengths less than or equal to 12': 10" high by 9" deep for systems with drop lengths of greater than 12': 11.75" high by 10.5" deep
Unit electrical control
System controls are listed in accordance with UL 864 for releasing devices. External control box mounted outside of the unit, may be mounted up to 30 conduit feet away.
Emergency power source
Each unit has a battery that can power the unit for up to 18 hours on loss of primary power. Emergency power source will take over automatically if primary AC power is disrupted.
Optional curtain switch
Yes, mounted on opposing walls.
Mandatory test key switch
Yes.

For other relevant searches, you might want to try: