architecture - engineering - construction
About Gate Safety
Gate Safety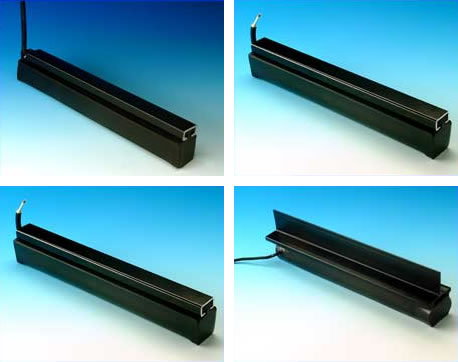 Motorized gates require special safety precautions. ANSI/UL325 is the accepted standard for gate safety and includes specifications for designing safe gate systems that protect against entrapment and hazardous pinch points. Gate Edge Sensors and photo eyes are key components of a safe gate system.
All Miller Edge Gate Edges and Photo Eye sensors are recognized components of ANSI/UL325 standard for gate safety. For a free easy reference guide to compliance with the ANSI/UL325 gate safety standard, email us.
Miller Edge manufactures gate edge sensors for use on motorized Horizontal Sliding Gates, Swinging Gates, Vertical Lift, Vertical Pivot and Barrier Gate arms.
Invisi-Guard photo optic sensor offers thru beam photo eye protection with a wireless emitter and includes a low battery audible alarm. With InvisiGuard, there is no need to saw concrete to run wiring across the opening.
Horizontal Sliding Gates
ME120
Single sided sensitivity
MGO20
Three sided sensitivity
ME123
Single sided sensitivity for 2" square posts
MGR20
Wrap around sensitivity for 2" round posts
MGS20
Wrap around sensitivity for 2" square posts
Swing Gates
MGO20
Three sided sensitivity
MGR20
Wrap around sensitivity for 2" round posts
MGS20
Wrap around sensitivity for 2" square posts
Vertical Lift Gates
ME120
Single sided sensitivity
MGO20
Three sided sensitivity
ME123
Single sided sensitivity for 2" square posts
MGR20
Wrap around sensitivity for 2" round posts
MGS20
Wrap around sensitivity for 2" square posts
Vertical Pivot Gates
ME120
Single sided sensitivity
MGO20
Three sided sensitivity
ME123
Single sided sensitivity for 2" square posts
MGR20
Wrap around sensitivity for 2" round posts
MGS20
Wrap around sensitivity for 2" square posts
Barrier Gate Arms
ME110
Single sided sensitivity
ME111
Single sided sensitivity
MGO20
Three sided sensitivity

Brochures | 3-Part CSI specifications | CAD details
News archive:
MillerEdge MG110 Sensing Edge (Jan 04, 2022)
Miller Edge Launches All New User Friendly Website (Jun 12, 2012)
Miller Edge Voted No. 1 in Professional Door Dealer Magazine's Best of Business Poll (May 10, 2011)
02820 - Fences and Gate
08780 - Special Function Hardware
10450 - Pedestrian Control Device
11150 - Parking Control Equipment
11280 - Hydraulic Gates and Valve
11285 - Hydraulic Gate
12700 - Systems Furniture
13700 - Security Access and Surveillance
08 78 00 - Special Function Hardware
11 12 33 - Parking Gates
11 14 13 - Pedestrian Gates
12 59 00 - Systems Furniture
28 13 00 - Access Control
32 31 00 - Fences and Gates
32 31 16 - Welded Wire Fences and Gates
32 31 19 - Decorative Metal Fences and Gates
32 31 26 - Wire Fences and Gates
35 20 16 - Hydraulic Gates
35 20 16.13 - Hydraulic Spillway Crest Gates
35 20 16.19 - Hydraulic Head Gates
35 20 16.26 - Hydraulic Sluice Gates
35 20 16.53 - Hydraulic Vertical Lift Gates