architecture - engineering - construction
Modern Planters for Rooftop Gardens
TerraCast® is the leading manufacturer in the world for innovative, rotationally molded resin products. Our Planters are cost-effective, environmentally friendly, and easy to install and own.

They are ideal for commercial, residential and even rooftop applications! Soar to new heights with our beautiful, durable, lightweight resin Planters. View our modern and contemporary style planters for your rooftop project.

Rooftops are designed, engineered and built with a set weight limit and load capacity, so every pound counts. TerraCast® can help you design a beautiful roofscape for your building at a fraction of the weight of stone, concrete or clay.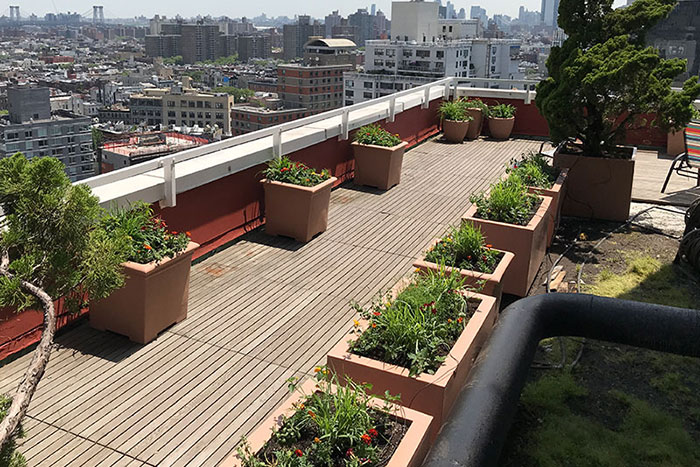 Lighter
Resin weighs one-tenth as much as stone materials commonly used to make similar items. With resin, you won't have to worry about heavy machinery or keeping your selections confined to your elevator's weight limit.
Our resin is lightweight, so even the biggest planter can still ride up the elevator with you. Just push it into the elevator, hit the penthouse button and enjoy the ride! If you don't have a helper, you can roll it on a dolly. One or two people can easily maneuver the largest planters we sell.
Similarly, our Classic Lampposts weigh a fraction of a fiberglass, metal or concrete light pole. Resin lampposts are easy to move and install, and all of our products come with express installation instructions, just in case.
Resin is also incredibly durable, so you won't damage it if you accidentally bang it against the elevator door.
Resistant
Resin is non-porous and non-hydroscopic, so nothing gets through it and nothing sticks to it.
Flock of birds targeted your rooftop garden? No problem. Turn the hose on high and spray it. That's all! Some neighbor kids got a little marker or crayon-happy? Any household cleaning solution will fix it. Someone decided to spray paint? Don't panic. That's as serious as it gets!
Color
Our color blends are blended right into the resin base, along with a UV inhibitor. That means, no matter what color you choose, it will not fade or bleach in the sun for many years. We offer a rainbow of solid colors, along with a selection of faux-stone looks including Brazilian Terracotta and some granite blends. The Terracotta looks exactly like real, worn, "shabby-chic" Italian clay with a beautiful patina sheen. The granite blends are a slightly translucent base with multi-color speculates mixed in, giving depth and speckling variation, for an authentic natural stone look.
Water
For our planters, we offer a separate piece that creates a self-watering feature. It's a segregated offering that fits onto the bottom of your planter, creating the reservoir to hold water. A water-wicking system allows the plants to draw the water up from below the roots, watering them from underneath.
It keeps your greenery greener and you don't have to worry about remembering to water. Just enjoy your self-sufficient, carefree rooftop oasis!
TerraCast® will not only save you money on material, shipping, and installation, but we'll also help you keep your greens green and your life simple.
@terracastpro #terracastpro #planters

For other relevant searches, you might want to try: