architecture - engineering - construction
New Floors on Schedule at WCTC – Thanks to PENETRON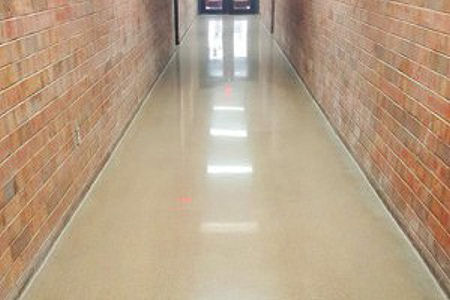 As good as new: The hallway of the Waukesha County Technical College is fully restored thanks to PSP's RENEW WS, a single component, self-leveling overlayment.
Last month's completed renovation project at the Waukesha County Technical College included a comprehensive floor-renewal phase to remove the existing quarry tile and produce a polished floor surface. PENETRON Specialty Products (PSP) provided the know-how and floor topping products to ensure a seamless finish for the facility's floors.

Originally constructed in 1995, the floors at the Waukesha County Technical College needed an urgent renovation. In an initial phase, the previous quarry tile and mud bed floor was removed, which left an approximately 1¼" void. This needed to be filled and resurfaced to produce a polished concrete, terrazzo-like finish.

"Before any work on the floor had begun, PSP provided the contractor with floor topping materials to perform mock-ups. This showed how it could best be repaired and renewed with a restorative overlayment," explains Bob Baumeister, PSP Tech Support Manager. "Thanks to this quick bit of research, we were able to come up with the perfect solution!"

Aggregate was added and blended into the RENEW WS material to produce the desired finish. Due to the depth of the pour, the installing contactor conducted a pre-fill with the RENEW WS (no added aggregate) and then installed a 3/8" cap (with aggregate added) the following day. RENEW WS from PSP is a single component, self-leveling overlayment commonly applied as a restorative wearing surface over distressed, worn or rain-damaged, structurally sound concrete.

"After two days of cure, they immediately proceeded to the polishing phase to stay on schedule," adds Mr. Baumeister. "The contractor and the owner representative were extremely pleased with the end results."

The PENETRON Group is a leading manufacturer of specialty construction products for concrete waterproofing, concrete repairs and floor preparation systems. The Group operates through a global network, offering support to the design and construction community through its regional offices, representatives and distribution channels.