architecture - engineering - construction
Smooth Landing at Aruba with Penetron Moisture Barrier
When Aruba Airport authorities wanted to upgrade the main arrival hall at Queen Beatrix International Airport, they chose the VB 225 moisture barrier system from PENETRON Specialty Products (PSP) as a durable solution for this busy facility. The spangled new hall was inaugurated this month.

External drying of the concrete is often not possible for many construction projects that involve the type of extensive repair and renovation work required for this project. Installing a moisture mitigation system then becomes the best solution to protect the final finish from moisture vapor and to keep adhesives from contact with the high pH in the concrete.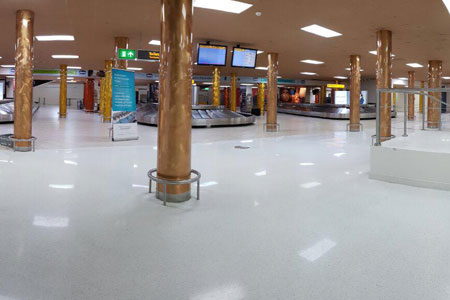 As a solution for high-traffic areas, VB 225 is formulated to prevent floor failures on concrete slabs containing elevated levels of moisture. Used together with cementitious leveling materials or as a stand-alone moisture reduction solution, VB 225 provides permanent protection for the floor covering.

"Like our work for Nemours Children's Hospital and the dormitory at Seaton Hall University, PSP has enjoyed great success with VB 225 in demanding environments where traffic volume and sensitive floor coverings mandate the highest performing moisture vapor mitigation solution," explains Peter Trainor, VP of Sales at PENETRON Specialty Products.

The Queen Beatrix International Airport, located in Oranjestad, Aruba, in the Dutch Antilles, was originally built in 1972 and has undergone numerous expansion and upgrade projects over the years. The airport's passenger handling capacity has more than doubled over the past 20 years.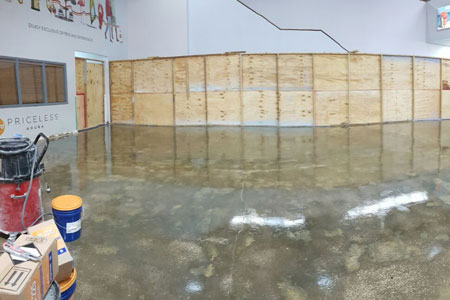 In addition to the main terminal building, the Queen Beatrix International Airport's extensive renovation project included a new passenger arrival hall, expanded administrative and ticket sales offices, new terminal signage and improved baggage handling systems.

The Prouco Group, the project's general contractor and a professional epoxy floor coatings application service, was responsible for the repair and renovation of approximately 11,000 square feet (1,022 m2) of concrete flooring in the main terminal of the airport. Mr. Trainor noted that the terminal's existing concrete slab "needed to be renewed and there was also a humidity problem we needed to solve."

Prouco helped keep the project on schedule by using PENETRON's moisture vapor reduction system: VB225 and PRIMER STX 100. The final flooring cover of epoxy terrazzo included inlaid figurative brass medallions representing the island's aquatic fauna.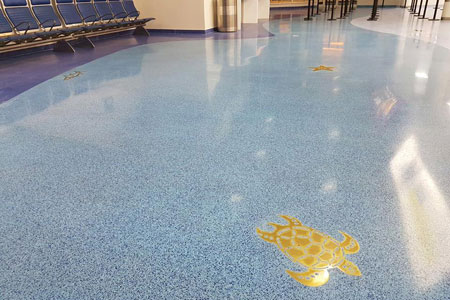 Follow the turtle: The Aruba Airport's new epoxy terrazzo flooring with inlaid figurative medallions representing local fauna has a VB 225 moisture mitigation layer to keep everything dry and smooth.

"The PSP products performed as usual - the best on the market!" exclaimed Johnny Guzman, Head of the Prouco Group. "The floor came out perfectly. My team was pleased with the results and the customer was very happy!"

"Working with the team at Prouco is a key factor in the success of every one of our projects in the Caribbean region," adds Mr. Trainor. "We greatly appreciate their craftsmanship and professionalism."

For other relevant searches, you might want to try: