architecture - engineering - construction
News
NuTone LunAura Collection Offers First Ambient LED Soft-Glo Ventilation Fans
Perfect for homeowners who want to beautifully and efficiently light a room for safety and navigation, the NuTone® LunAura® Collection also creates a relaxing, spa-like atmosphere in any bathroom. In addition to its innovative approach to night lighting, the ENERGY STAR® qualified LunAura Collection offers bright task lighting and, of course, incredibly quiet and powerful ventilation.
NuTone LunAura is the perfect product for those who want their décor to stand out and be noticed. Unlike standard ventilation fan/lights, NuTone LunAura incorporates soothing blue LED night lighting that instantly enhances the ambiance of any room. Its innovative technology helps to create a calming atmosphere much more visually appealing than standard lights. The soft lighting offers the convenience and safety of a functional night light while simultaneously showcasing a contemporary look that can be a central design focus and an immediate conversation starter.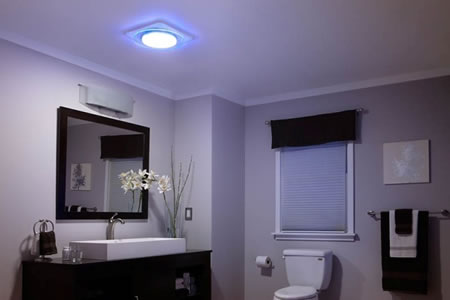 NuTone LunAura comes in three clear light panel configurations (round, square and diamond), which give the appearance of natural glass when the LED light is off. When turned on, the panels display a beautiful soft blue hue (pictured right). This hue allows one to fall back asleep more easily after a middle-of-the-night visit to the bathroom. NuTone LunAura also features a 36-watt GU24 main light for brightness and efficiency.
"We've listened to our consumers and now offer the first ventilation fan/light that not only improves air quality and functions as a night light, but also instantly transforms the entire mood of a room," says Patrick Nielsen, marketing manager ventilation fans, NuTone. "NuTone is the first in the industry to pair soft, colored LED lighting with an efficient ENERGY STAR qualified ventilation fan, which dramatically affects the atmosphere of any space and instantly becomes a decorative centerpiece."
NuTone LunAura has an HVI certified 110 CFM air movement rating and a nearly silent 0.7 Sone rating.
In addition to NuTone LunAura, more than 75 BROAN and NuTone ENERGY STAR qualified ventilation fans are designed, engineered, manufactured and customer supported in the U.S.A.
For other relevant searches, you might want to try: