architecture - engineering - construction
About Smart Retail Lockers
Smart Retail Lockers
Smart Retail Lockers
Streamline Your BOPIS Order Fulfillment Process
No matter how you say it, BOPIS, BOPUS, BOPIL, Curbside Pickup, or Click and Collect, it's here to stay!
Customers have come to expect this convenient solution from all retails, so finding a way to streamline your order fulfillment process is key to your positive ROI.
Automated retail locker systems improve both employee efficiency and customer satisfaction and can easily handle increased or fluctuating order volume withut having to adjust staffing. Adding an outdoor installation of self-service retail lockers can also extend your store hours to 24/7, offering customers the ultimate in flexibility.
Self-Serve Automated Lockers Refine BOPIS Order Retrieval
Meet the Package Concierge®, your always on and available employee to securely handle customer orders.
Evolve Your Order Pickup Process!
Customers' constant thirst for convenience and contactless pickup calls for new options and solutions that look to the future. Don't let long customer lines define your order pickup process; evolve your process by adding smart technology and take your solution to the next level.
Our self-serve automated locker systems can easily connect to your existing software while offering a simple and reliable customer interface that gives you real-time and historical data to help enhance your operations.
In our published paper with Retail Touchpoints learn how automated pickup lockers can expand your location hours, serve as an additional storefront, and increase sales, all while easing your staffing crunch and providing additional branding opportunities.
Scan. Retrieve. Go!
A locker-based touchless transaction is fast and easy! It takes mere seconds for a customer to pick-up a BOPIS/Will Call order that only took seconds for the store associate to deposit into the automated locker for their retrieval. (Customer returns or BORIS are just as fast and easy, too!)
Automated retail lockers...
Provide a contactless pick-up;
Streamline BOPIS/Will Call fulfillment;
Leverage the store location and minimize order touches;
Deliver a quick and convenient customer experience;
Create happy customers, and;
A happy customer is more brand loyal and has a higher lifetime value!
Now, more than ever, it is important to Expand your BOPIS fulfillment options to meet customer expectations with convenient automated retail lockers.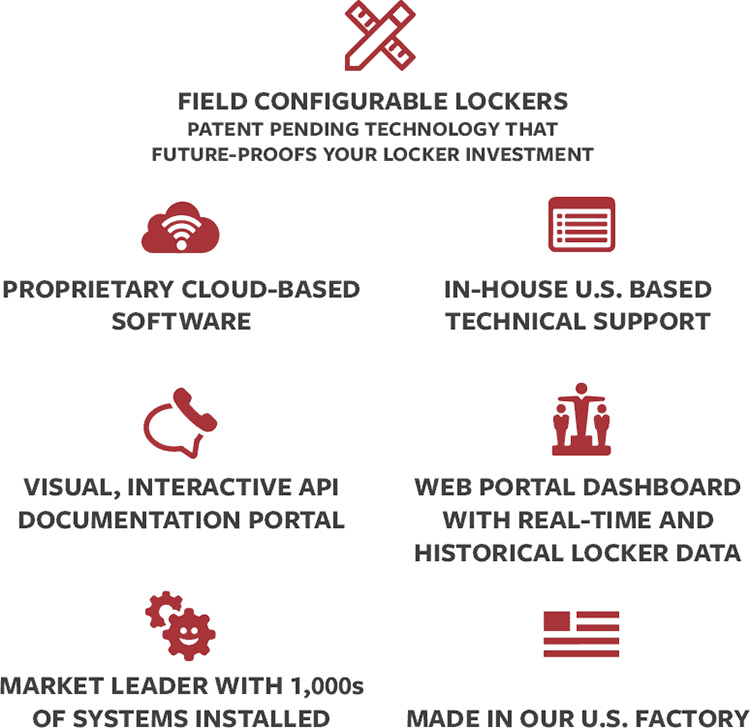 Purpose-Built Software
The Package Concierge® proprietary cloud-based software is specifically designed to meet the needs of the retail market. Specialized software, combined with Made in the U.S.A. Florence-built locker hardware, provides a seamless managed solution for omnichannel retailers.
Flexibility to adapt to the way you want to do business – including customization to mirror your branding and voice
REST + JSON API that supports integration with your existing retail systems
Visual, interactive API documentation portal for integration support
Web portal dashboard visually displays both real-time and historical locker data down to the store level
Locker kiosk software provides a refined user experience that ensures a frictionless transaction for both the store associate and customer
U.S. based email and phone technical support

Brochures | 3-Part CSI specifications
10500 - Locker
10 50 00 - Storage Specialties
10 51 00 - Lockers
10 51 13 - Metal Lockers
28 13 00 - Access Control
28 13 19 - Access Control Systems Infrastructure
41 53 13 - Storage Cabinets