architecture - engineering - construction
News
Parex EIFS featured on a mixed-use building in Columbus, Ohio
Project: Joseph Office Building
Location: Columbus, OH
Applicator: Reitter Stucco
Distributor: Reitter Stucco & Supply
Architect: Ted Heldenbrand of Kalsberger
Owner/Developer: Pizzuti Cos.
Square Footage: 8,300 sq. ft.

EIFS

Parex WaterMaster EIFS
Parex USA WeatherSeal Spray & Roll-On
Parex 121 Dry Basecoat & Adhesive
2" EPS Foam
Parex USA 355 Standard Mesh
Parex USA Primer
Parex Standard DPR Finish in 533 Sand
Smooth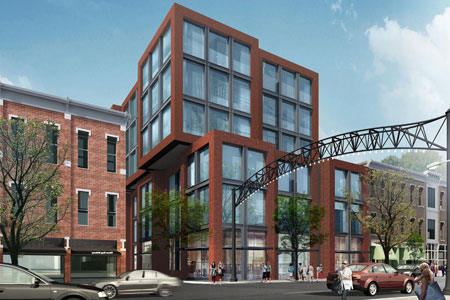 The Offices at The Joseph is a 55,000 sq. ft. mixed-use development which encompasses both office space and ground-floor retail space in the thriving art district of Columbus, OH.

The location of the project made construction difficult, as it's situated in the heart of the Short North area of the city, not far from Ohio State University. The majority of the work was located on the North elevation side, from the 3rd floor to the roof parapet and adjacent to an existing 2-story structure. All of the EIFS, with over 2,400LF of aesthetic reveals, was installed in place from swing stage equipment. The elevation had to be completed in phases to allow crews to dismantle and re-install the swing stage equipment. Each move took 1-2 days, with 6 moves in total. And, with tenants scheduled to move into the building by October 2014, and Reitter's crew starting work on July 1, 2014, the turnaround time was tight and summer temperatures were a definite factor.

The system to be used on the building was originally designed using a competitor's product, but after submitting a substitution request to the artchitect, Reitter was granted approval to move forward with Parex products. Ind the end, the artchitect was very satisfied with the finished look of the project and how Parex products compared to the that of the competition.
For other relevant searches, you might want to try: