architecture - engineering - construction
Penetron Crystalline Technology Reduces Permeability At The Pointe
The second phase of construction at the enormous Dania Pointe development was completed in February 2020. PENETRON ADMIX SB was specified over a competitor product to ensure a waterproof concrete matrix for all below-grade structures.

Built on the site of the former Dania Beach wooden roller-coaster ride, the Dania Pointe development is located immediately south of the Fort Lauderdale International Airport. The $800 million, 102-acre mixed-use complex was developed by Kimco Realty and features retail shops, restaurants, Class A offices, hotels, luxury apartments, and a public event space.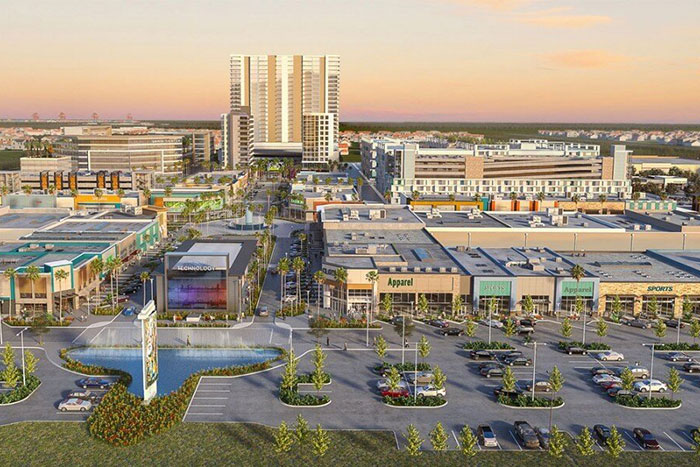 The vast dimensions of the Dania Pointe complex are remarkable. The construction project comprises over 1,000 apartment and condo units, 800,000 square feet (73,000 m2) of open-air retail space, and 500,000 square feet (45,500 m2) of Class A office space. The $75 million hotel complex comprises a Marriott Hotel (196 rooms on 14 floors) and an AC Hotel (154 rooms on 11 floors) on 420,000-square-feet (38,200 m2).

Massive, Multi-Phase Project
The first phase of construction, finished at the end of 2018, saw the completion of numerous retail shops, restaurants and services. This phase included openings for well-known brands such as BrandsMart, Verizon, Starbucks, Men's Wearhouse, Burger King and Firehouse Subs.
The second phase of the project, with more retail shops and restaurants, also inaugurated both Marriott Hotels and two office buildings, and the 600 residential apartment units of the Avery Dania Pointe. This phase was largely completed by January 2020.
"The first and second construction phases at Dania Pointe are done – just in time for the 2020 Super Bowl in Miami," adds Christopher Chen, Director of The Penetron Group. "The complex has become an immersive shopping experience for shoppers and residents to gather, work, play and live."
A third construction phase, set for completion in the latter half of 2021, will add a second residential tower.
Finding Better Protection Against Concrete Deterioration
Dania Pointe is immediately adjacent to the Hollywood Canal and numerous smaller waterways common to that area of Southern Florida. Builders at the construction site were aware of the high-water table. A competitor's waterproofing product had already been specified to waterproof key concrete elements of the complex. However, after consultation with Supermix and the local Penetron expert, the builders opted for PENETRON ADMIX SB as the preferred crystalline waterproofing solution.
PENETRON ADMIX SB is delivered to the ready-mix supplier in 3 kg (6.6 lbs.) soluble bags. The packaging dissolves immediately during the batching phase and eliminates the need for measuring, which streamlines the batching process.
"Once it's in the mix, PENETRON ADMIX SB provides comprehensive protection against concrete deterioration caused by chemical attack, penetration of chloride ions and resulting corrosion, while withstanding high hydrostatic pressure," concludes Christopher Chen.
#penetron #waterproofing #concreterepair

For other relevant searches, you might want to try: