architecture - engineering - construction
PENETRON Helps BMW Cars Roll off the Line in Brazil
PENETRON ADMIX was utilized in the on-site water and sewage treatment system at Brazil's new BMW automobile plant in Araquari, Santa Caterina. PENETRON technology helped ensure the tanks at the plant, which opened in December 2015, are waterproof for decades to come.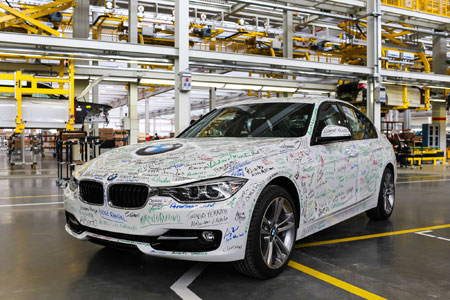 Autographed BMW rolls of the line of new plant.
Germany's BMW Group noted that over €200 million is being invested in the plant, which will result in a production capacity of more than 30,000 vehicles annually. The site also features a body shop, a paint shop, administrative and auxiliary infrastructure, and logistic activities. The production site covers an area of about 1.5 million square meters; of this area, 500,000 paved square meters are dedicated to production. The Santa Catarina plant will produce the Mini Countryman, the BMW 1 Series and 3 Series sedans, and the X1 and X3 SUV models.

"This new factory is a big win for the country, as Brazil is becoming an increasingly important market for BMW," adds Jozef Van Beeck, Director, International Sales & Marketing of The PENETRON Group.

The production site maintains an on-site water and sewage treatment plant to meet local environmental regulations. The project contractor specified PENETRON ADMIX to ensure durable structures for the large storage tanks. This treatment protects the concrete tank structures against any moisture ingress, including the chemicals found in the plant's wastewater.

"The PENETRON Brazil team worked with the contractor to come up with a solution that kept construction on schedule and on budget," says Mr. Van Beeck.

The PENETRON Group is a leading manufacturer of specialty construction products for concrete waterproofing, concrete repairs and floor preparation systems. The Group operates through a global network, offering support to the design and construction community through its regional offices, representatives and distribution channels.

For other relevant searches, you might want to try: