architecture - engineering - construction
PENETRON Protects The Club at Bay Harbor
As Florida's leading solution for crystalline concrete protection, PENETRON ADMIX provides economical and permanent crystalline concrete resistance to corrosion by making concrete impermeable to water. Inaugurated in time for the spring season, the condos at The Club at Bay Harbor in Miami, Florida, now rest on a durable foundation.

Across the water from Miami, Florida, The Club at Bay Harbor sits by the Intracoastal Waterway on Bay Harbor Island. The six-floor, 25-unit condominium building features a heated pool, fishing docks, elevators, and private parking areas. The condo balconies offer views of the Intracoastal Waterway, Biscayne Bay and the Atlantic Ocean.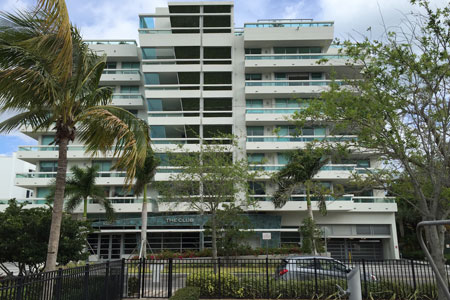 Staying dry beachside:The Miami Bay Club specified a crystalline admixture for the concrete slab instead of conventional membrane/bentonite waterproofing for considerable time and cost savings.
"Originally, a bentonite-type rubber membrane was specified to ensure a waterproof structure at this Bay Harbor Island site," explains Christopher Chen, Director of The PENETRON Group. "We worked with the contractor, the waterproofing consultant and installer, and the concrete supplier to come up with a better solution that provided tangible cost benefits and eliminated all the installation issues inherent with a membrane by creating impermeable concrete structures."

PENETRON ADMIX SB – in pre-measured soluble bags – was added to the concrete during the mixing phase to provide comprehensive protection against concrete deterioration caused by the nearby saltwater and the resulting corrosion, while withstanding the hydrostatic pressure found at the site. The treated concrete was used in the pile caps and footings of the building's foundation.

"As the most efficient and economic permeability-reducing concrete admixture, PENETRON ADMIX SB can significantly increase the concrete durability and service life of the structure," adds Mr. Chen. "The wide use of our admixture on ocean shoreline projects in Florida is the best proof of just how effective this crystalline protection can be."

The PENETRON Group is a leading manufacturer of specialty construction products for concrete waterproofing, concrete repairs and floor preparation systems. The Group operates through a global network, offering support to the design and construction community through its regional offices, representatives and distribution channels.

For other relevant searches, you might want to try: