architecture - engineering - construction
PENETRON Puts It Together for IKEA in Sweden
As the world's largest furniture retailer, IKEA needs little introduction. Founded in Sweden in 1943 by 17-year-old Ingvar Kamprad, now one of the world's richest people, the company is known for its modern architectural designs for appliances and furniture. Today, IKEA owns and operates 349 stores in 43 countries.
Parking Goes Vertical
The Kungens Kurva store in Stockholm is IKEA's largest retail outlet in Sweden. Continued growth made a sizeable expansion of the parking facility necessary. This project was recently completed; the expansion added a 14,600m2, three-floor parking garage.
The construction design called for concrete modules to be poured and installed at the job site. These modules were installed as 17-meter suspended steel formwork floor slabs; about 4,500 m3 of concrete were treated with PENETRON ADMIX.
Robert Moen, Director of PEN-TEC Nordic (the PENETRON entity in Scandinavia) was happy with both IKEA projects: "We've had excellent results with the speed of installation and reliability of PENETRON ADMIX on larger projects – the new IKEA garage was no different."
New Idea Factory
Älmhult, a small town in southern Sweden where IKEA began in the 1940s, is still the company headquarters and home to the Global Design Center, where all its products are developed. The 15,500m2 facility houses 1,000 designers who develop approximately 2,000 new products per year.
Marcus Eaton, IKEA Design Director, pointed out the importance of the Center's open layout with places for people to interact. "Because the best ideas seldom come from a single person behind a desk, our idea factory provides lots of room for informal meetings so people can spend more time together."
The expansion project at the Design Center included a 3,000m2 concrete slab for the basement area that was constructed at a very wet job site (about 1.4m below the groundwater level). PENETRON ADMIX concrete was chosen for the slab and the cellar walls, a total area of 15,500 m2.
"Global clients look for excellent performance and consistent results," notes Robert Revera, President and CEO of The PENETRON Group. "The solutions we've put together for IKEA meet and exceed these expectations."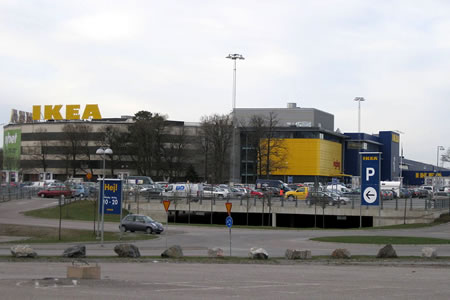 Lots of parking: The Kungens Kurva IKEA store is the largest in Sweden, and now features an additional three floors of parking.
The PENETRON Group is a leading manufacturer of specialty construction products for concrete waterproofing, concrete repairs and floor preparation systems. The Group operates through a global network, offering support to the design and construction community through its regional offices, representatives and distribution channels.

For other relevant searches, you might want to try: