architecture - engineering - construction
Self-Leveling Underlayments from Penetron Specialty Products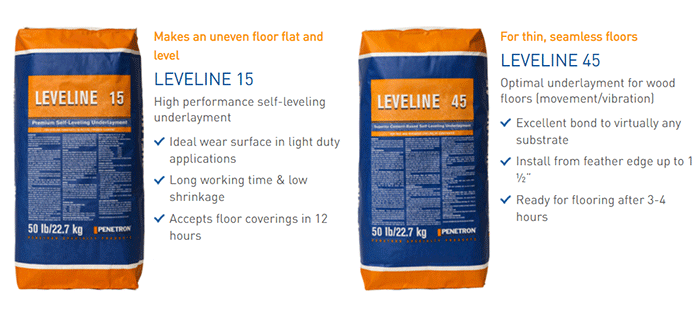 Penetron Specialty Products (PSP) manufactures high quality products for a wide range of flooring preparation and installation tasks. From primers to self-leveling underlayments and vapor barriers, PSP offers reliable solutions backed by our customer support experts and a 100% customer satisfaction guarantee.

Each of our products has a detailed product data sheet and a material safety data sheet (MSDS) available for download.

LEVELINE™ 15 is a premium, Calcium Aluminate based, interior, self leveling underlayment that can be used to create a smooth, flat or level surface prior to the installation of floor coverings. Its long working time, low shrinkage and superior leveling properties make it the ideal product for many demanding interior applications.

LEVELINE™ 45 is a Calcium Aluminate based, self curing, self leveling floor underlayment that is used to create a level, flat and durable surface prior to the installation of finished floor coverings. Mixed with water only, LEVELINE™ 45's Ethylene-Vinyl Acetate binding system creates an excellent bond to virtually any substrate and can be installed from featheredge up to 1 ½" (3.8 cm) neat and up to 5" (13 cm) extended with aggregate. LEVELINE™ 45 provides a substrate which can accept ceramic tile and natural stone within 3-4 hours after application. Finished floor coverings such as carpet, VCT, Vinyl sheet goods, rubber, epoxy, and engineered wood plank can be installed in as little as 24 hours.
#penetron #concreteprotection

For other relevant searches, you might want to try: