architecture - engineering - construction
Plaster Jbead Frame for Perforated Grilles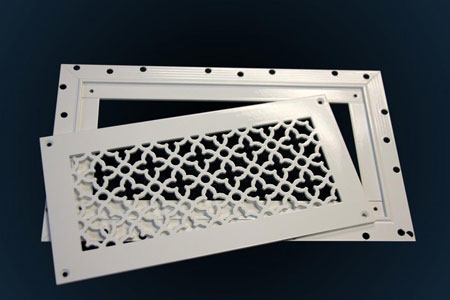 The Jbead frame* for perforated grilles by Artistry in Architectural Grilles improves installation speed and accuracy while providing a strong and seamless finished result.

The frame is fully welded into a solid, one piece unit. There are no unsightly rivets, welds or seams that can crack or pull-apart as is the current industry standard. The flange provides multiple recessed capture areas for plaster or "mud" and there is a step enabling the finishers to smoothly and cleanly apply an initial coat and a final skim coat. Additionally, there are numerous pre-punched holes designed to accept standard wall board screws with spacing to accommodate any wall condition.

The perforated grille Jbead frame can be provided in any shape or configuration (fixed or removable; with or without a door) and will accommodate either filter slots or opposed blade dampers.

The frame is available in aluminum with a full range of finishes: satin # 4, satin – clear anodized, mirror polish # 8, prime painted, or powder coated.

*Patent pending
JBead Perforated Grille Assembly
Please contact us at
sales@aagrilles.com
or visit
www.aagrilles.com
for more information.
About Advanced Arch Grilles
For over 75 years, our company has been an industry leading choice for the highest quality architectural grilles and metal products. Leading architects, contractors, builders, designers, mill workers, mechanical contractors, OEM's and homeowners depend on the AAG team for superior craftsmanship, creativity, flexibility, responsiveness, competitive pricing, reliability, and a steadfast commitment to the successful outcome of their projects.

For other relevant searches, you might want to try: