architecture - engineering - construction
Porto Atlântico + PENETRON = Durable Concrete
The Porto Atlântico urban renewal project was a massive endeavor that relied on PENETRON crystalline technology to ensure its below-ground structures would remain impermeable. Despite its magnitude, the project was completed in two months.

This extensive development project in the Porto Maravilha area of Rio de Janeiro is one of the city's oldest and most historic areas. After a long period of decay, the region has become a magnet for investment and new construction.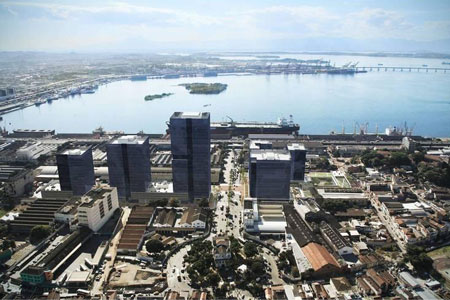 Rio's massive urban renewal project, Porto Atlântico, relied on PENETRON ADMIX to ensure permanent protection against high hydrostatic pressure of groundwater in all concrete basement slabs.
The Porto Atlântico project comprises the revitalization of two adjacent lots, 16,000 m2/172,220 square feet and 12,000 m2/129,200 square feet in size:

Porto Atlântico Leste (East Atlântico Port), which encompasses IBIS and NOVOTEL hotels (450 rooms), two commercial towers (330 & 54 units), and 50 retail shops
Porto Atlântico Oeste (West Atlântico Port), including three corporate towers with a private area of approximately 66,000 m2
"This massive urban revitalization effort will boost the entire waterfront area of Rio de Janeiro, creating a new center of commercial and residential growth," adds Jozef Van Beeck, Director, International Sales & Marketing of PENETRON International.
Beyond construction of new buildings, the Porto Atlântico project also upgraded and modernized all infrastructures (including roads, sidewalks, utilities, sewage, and more) as part of the largest public-private partnership in Brazil to date. New building construction is LEED-certified (Leadership in Energy and Environmental Design), which confirms the sustainability criteria applied in the design during construction and in all aspects of project logistics.
All concrete basement slabs of the hotels and commercial towers were treated with PENETRON ADMIX to provide permanent protection against the high hydrostatic pressure of the groundwater. In addition, as an environmentally friendly construction material with a 0% VOC content level, PENETRON ADMIX contributed additional LEED points needed for LEED certification.
"Even with a waterfront location and its high water saturation levels, PENETRON ADMIX proved to be effectively stable to resist water under pressure," adds Mr. Van Beeck. "Our success with the Porto Atlântico project confirms just how superior PENETRON's permeability-reducing ("PRAH") technology can be, even in extremely demanding conditions."

For other relevant searches, you might want to try: