architecture - engineering - construction
Preferred Seating's Tuf Seats Fundraising Opportunity
Preferred Seating's line of stadium seating is designed to retrofit onto existing bleachers or grandstands.

Our Tuf Seats essentially convert drab bleachers into colorful stadium seats. It's an investment for tight budgets with continued dividends: more comfort means more spectators, and more spectators mean more income. Imagine it: turning a field of bleachers into relaxing Tuf Seats that look and feel good.

Top quality commercial seating needs to be comfortable, durable, and low-maintenance. Quality seats will be backed by generous warranties. At Preferred Seating, we can recommend stadium seating that has withstood the test of time during our twenty years in the business.

We offer numerous styles, any of which can be further customized by color, seat width, seat back height, and cup holder position. Custom upholstered inserts can also be added when appropriate.

We offer layout services as well. Our installers will secure your Liberty seats at any location across the country. Then, they are covered by a substantial five year warranty.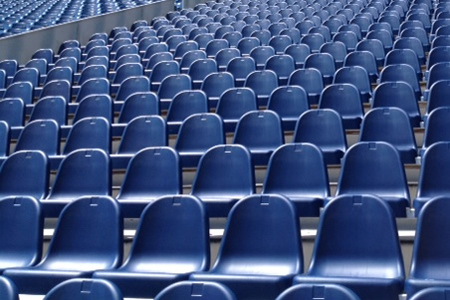 Liberty seats feature a variety of solid construction features. Standards are made of your choice of cast iron or 14 gauge heavy steel. They receive an electrostatically-applied powder coat. Seat bottoms and backs are made of high-impact, blow-molded plastic. Double-walled construction can take on those exuberant fans. Pivoting seats ride upon maintenance-free, high performance bearings.

Whether they are used as bleachers seats or outdoor seating, Liberty-style chairs come in seat widths of 20", 21", or 22". Any client ordering a larger quantity can even request a custom width of 19".

Our Liberty commercial seating can include upholstered inserts upon request. Select just the fabric style to complement the architecture and style of your venue. Modern materials that are stain resistant and spill resistant will offer many years of durable service.

If your project includes stadium bleachers, our Tuf stadium seating chairs can be retrofitted right onto the existing benches. These high-impact, injection-molded bleacher chairs will not crack or rust. Ultraviolet light inhibitors blended right into the plastic keep these bleacher seats from fading.

Imagine the response from your loyal fan base when they suddenly enjoy the back support provided by the high, contoured seat backs of our Tuf seats. The seat bottoms are also contoured for comfort on these bleacher chairs. They are designed with an anti-slip surface. A recessed location for seat numbers is included as well.

Tuf seats are available in many colors. Turn your bleachers into a sea of the school's colors if desired. Go from splintered boards or cold aluminum to the ergonomic support of these individual bleachers seats.

Whatever your commercial seating needs may be, we at Preferred Seating welcome the opportunity to assist you. We've offered our clients many creative solutions to their seating needs over the years, and we look forward to working with you.

Tuf Seats are a great idea to raise funds!
Fans are willing to pay more for the Tuf Seat upgrade, thus giving you more revenue for your sport programs. Universities and schools can sell the seats to season ticket holders to raise funds.
Retro-fitting stadiums is a snap as well. Our Tuf Stadium Seating can be mounted on bleachers and risers of existing facilities, even one with demanding specifications, such as tight back-to-back spacing.
ISO 19001 Certification
50 seat minimum
Made For Tight Budgets
Injection Molded Plastic
Anti-Slip Contour Seat Bottom
High Back Contour for Maximum Support
Recessed Area for Seat Location

For other relevant searches, you might want to try: