architecture - engineering - construction
News
Project Spotlight: Hotel Vandivort's Vantage Lounge – Springfield, MO
While the first four floors of the Hotel Vandivort's new $9.75 million expansion are certainly a sight to see, it the view from the fifth that has people rushing for reservations. Looking over downtown Springfield, MO from the hotel's rooftop is the Vantage Lounge and Conservatory. This stylish, upscale venue beautifully blends the old with the new by quite literally providing visitors with a fresh perspective on the historic city below. Visitors to The Vantage can experience stunning sunset views of the city's celebrated architecture all while enjoying a delicious dinner and drinks at one of the venue's many tall-top tables and booths that line the roof's edge.
In addition to its outdoor seating, The Vantage also includes a 2,250-square-foot four-season interior space that makes it possible for visitors to soak up the scenery all year round. The space's sophisticated design references the vintage, industrial style of the original Hotel Vandivort with deep green furniture, black-and-white tiles, gas lamps, and plenty of hanging plants, but, in keeping with the restaurant's theme, one of the space's greatest attractions is the view. Spanning across much of the indoor seating area is a large Auburn® skylight that fills the space with bright natural daylight. The venue's people and plants alike can benefit from the sun's light while enjoying dramatic views of the sky above.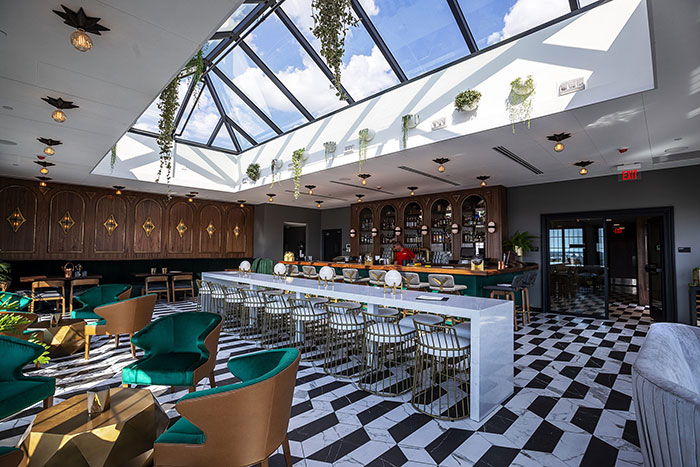 In addition to providing efficient illumination and reducing the need for artificial lighting, the skylight's sleek, geometric design and hip ridge configuration also contribute The Vantage's unique aesthetic and luxuriously "open" interior feel. Auburn® glass skylights can bring a unique look and feel to your next restaurant or bar project – visit our Auburn® skylight page to find out more, or check out our project gallery for additional inspiration.
PROJECT PARTNERS:
Architect: Bates & Associates (now Lamar Johnson Collaborative)
Contractor: Branco Enterprises Inc
Customer: Springfield Glass
Representative: Kinstler & Associates
@majorindustries #majorindustries
URL:
https://majorskylights.com/general/project-spotlight-hotel-vandivorts-vantage-lounge-springfield-mo/
For other relevant searches, you might want to try: