architecture - engineering - construction
News
Project Spotlight: Texas Tech / Indoor Basketball Facility
Officially opened in 2021, the $32.2 million dollar state-of-the-art Dustin R. Womble Basketball Center, on the campus of Texas Tech University, quickly became one of the best training centers in the country.

Director of Athletics Kirby Hocutt, in an article produced by Texas Tech University, said "This is hands-down the top basketball facility in the country."
The facility, home to the university's men's and women's basketball programs was funded entirely through philanthropic gifts to The Campaign for Fearless Champions, and provides both programs a day-to-day home for player development and strength and conditioning workouts.

The Womble Center, containing 59,000-square feet of basketball-focused space, is located directly across from United Supermarkets Arena for quick access for both programs. The facility provides practice courts for both the women's and men's teams as well as a 6,500-square-foot strength and conditioning area, one of the largest of its kind at the college level. The facility also features video boards in both gyms to replicate game situations while shooting free throws or final-minute situations. To date, Texas Tech is the only school in the country with interactive video boards in its practice gymnasiums.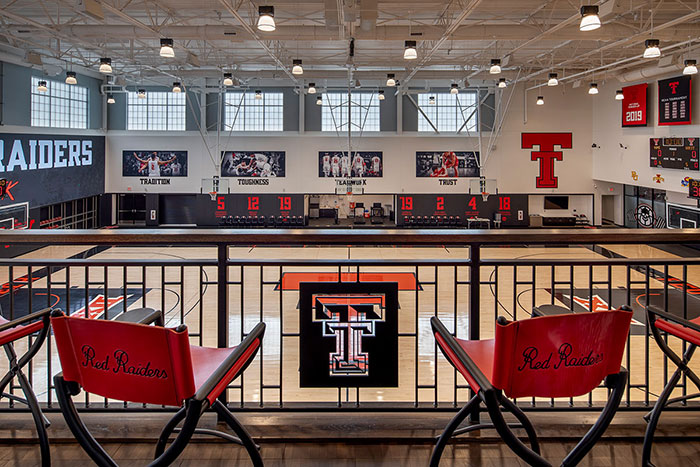 The court areas are also highlighted by natural light, courtesy of Guardian 275® translucent wall systems. These systems provide diffuse natural light for the space during daylight hours, and offer a soft glow when viewed from the exterior during evening hours, signaling the space is in use.

Controlled natural light is important for sports facilities, as uncontrolled sunlight can cause issues with glare and make it difficult for athletes to perform at their best. Uncontrolled light can also cause issues with HVAC systems due to excessive solar heat gain, something that Guardian 275® systems can control thanks to their translucent glazing and insulation options.

Major was proud to be a part of the Womble Basketball Center, one of the jewels of college athletics. When other athletic programs across the nation describe the ideal basketball facility," added Director of Athletics Kirby Hocutt in his University interview, "there's no doubt in my mind they'll point to the Womble Center."
Sources:
Photos by Christy Radecic, © 2023, All Rights Reserved – www.christyradecic.com
Project information from https://texastech.com/facilities/the-dustin-r-womble-basketball-center/21
Project Team
Contractor: Lee Lewis Construction, Inc.
Architect: Populous, Inc.
@majorindustries #majorindustries
URL:
https://majorskylights.com/general/project-spotlight-texas-tech-indoor-basketball-facility/
For other relevant searches, you might want to try: