architecture - engineering - construction
Rooftop Fall Safety Concerns for Warehouses - What You Need to Know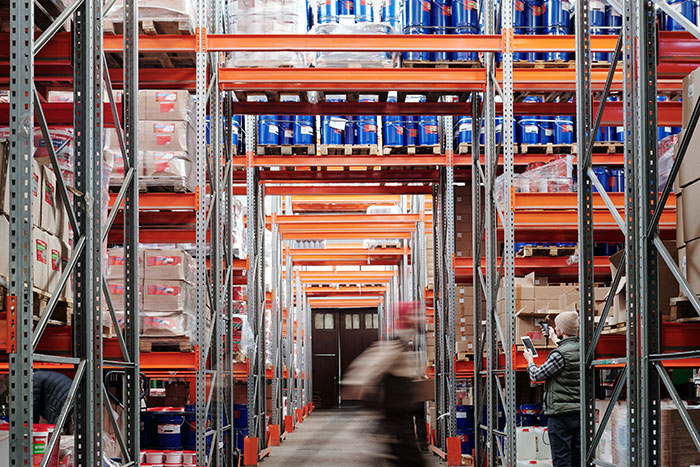 Like any industrial setting in the US, warehousing falls under OSHA and its general industry standards. Therefore, all it takes is a four-foot drop to a level below (think warehouses with mezzanines or elevated work surfaces) to require fall protection. And while you're at it, you also need rooftop fall safety systems if any of your employees have access to the roof.

When your workplace involves employees moving on and between elevated platforms, roofs, ladders, scaffolding, and other environments with fall risks, a simple mistake like slipping can become serious fast. You need to implement and update fall protection and prevention systems in your warehouse to the latest OSHA standards to protect your employees and safeguard your business against accidents and the resultant financial and human consequences.
OSHA Regulations Regarding Industrial Fall Protection
Proper, OSHA-compliant warehouse safety procedures are essential to protect workers from danger. Warehouse managers must identify the most prevalent hazards in their facilities and provide their workers and visitors with OSHA-compliant rooftop safety equipment and fall protection devices, both by issuing them to personnel and by installing and maintaining them properly within the warehouse facility. These include platform gates, mezzanine gates, safety rails, personal fall protection devices, and lifeline safety systems.

OSHA standard 1910.28 on the Duty to Have Fall Protection states that "the employer must ensure that each employee on a walking-working surface with an unprotected side or edge that is 4 feet (1.2 m) or more above a lower level is protected from falling by one or more of the following: Guardrail systems, safety net systems, and personal fall protection systems."
Warehouse Areas That Need Fall Protection Equipment
Rooftop fall protection does not readily come to mind when discussing warehouse safety hazards, but these hazards exist, just like anywhere else. Below are areas that need fall protection equipment:
1. Leading Edges
Leading edges on a warehouse roof are inherently dangerous, and installing safety rails is smart (and often required) to keep your workers safe. OSHA regulations require employers and managers to provide fall protection at leading edges (unprotected side and edge) of a rooftop, floor, and other working or walking surfaces with either safety rails or active individual fall protection such as a lifeline system.
2. Mezzanines
You can install safety rails to protect mezzanine edges, but it becomes hazardous if you need to get things up to and from that level. Unless you can drop pallets in over the railing, you will need a mezzanine gate. These access gates typically provide continuous protection for employees while also allowing movement of pallets and other materials onto and off of the mezzanine.
3. Around HVAC Units
Often, warehouse HVAC equipment is close to the roof edge, creating a potential fall hazard for HVAC installers and maintenance workers, plus anyone else who performs other duties on the roof. OSHA requires warehouses to provide fall protection if their HVAC equipment is within 15 feet or 4.57 meters of the leading edge.

The type of rooftop fall safety to provide to protect around HVAC systems depends on the roof's slope or the distance between the HVAC equipment and the edge. You may use parapet safety rails with another form of personal fall protection like lifeline safety systems for a fuller safety approach.
4. Ladderways
Ladderways are potential fall hazards in a warehouse as workers ascend and descend them to access things from different levels. OSHA discontinued the use of chains as a viable fall protection option for ladder access. Every ladderway floor opening or platform needs to be guarded by a standard ladder railing with standard toeboard on all exposed sides (except at the entrance to the opening), with the passage through the railing either provided with a swinging gate or so offset that a person cannot walk directly into the opening. Depending on the location and height of the ladder, additional ladder guard equipment or active fall protection may also be required.
5. Uneven Rooftop Levels, Steep-Slopes, and Low-Slopes
OSHA defines a low-sloping roof as having a slope of four inches or less of vertical rise per every 12 inches of horizontal length. Use rooftop fall safety systems such as a metal guardrail, warning line systems, personal fall protection devices, and safety monitors.

A steep-sloping warehouse roof is one with a slope of four and a half inches or more per every 12 inches of horizontal length. Use a safety-net system or personal fall arrest systems even for temporary roof work.

Some warehouses also have uneven rooftops, which necessitate employees to move from level to level while working on the roof. Workers may also need to access some areas using stairs or ladders. In these cases appropriate, OSHA-compliant safety railing for uneven levels is highly recommended.
6. Skylights, Hatches, and other Rooftop Openings
When working or walking on the warehouse rooftop, employees can encounter potential fall hazards such as hatches and skylights. These openings, often overlooked, can result in injury and damage to the equipment below.

Roof hatches provide safe and convenient rooftop access, especially in commercial buildings like warehouses. Skylights allow natural light into the premises.

Skylight protection systems serve as protection from impact and as a warning to workers without diminishing its purpose. For roof hatches, guardrails with swing gates make smart choices to protect workers and serve as access control.
Over to You
Evaluating your warehouse rooftop fall protection and safety equipment is critical before you start operations. You also need to regularly inspect, assess, and maintain lifeline safety systems to stay compliant with OSHA updates and keep up with wear and tear. If you have not done a thorough evaluation yet, do it immediately because you are one fall or inspection away from an OSHA fine or lawsuit.

When it comes to your warehouse fall protection systems, don't leave safety to chance. Plan, evaluate, implement, and review to ensure your employees' well-being and the safety of everyone else who accesses your facility. OSHA does dictate the need for rooftop fall safety and protection, but you are responsible for identifying and implementing the right systems for your warehouse, on the roof and throughout your facility.

For expert guidance and exceptional expertise in safety solutions for your warehouse, BlueWater is here to help. We are a leading manufacturer of quality fall protection equipment. We design and install guardrail systems, lifeline safety systems, safety rails, and other rooftop safety equipment.

Contact us today, and one of our rooftop fall safety experts will help you determine the right solution for your warehouse.
@BlueWaterMfg #BlueWaterMfg #skylight #osha #safety

For other relevant searches, you might want to try: