architecture - engineering - construction
BlueWater Mobile Fall Restraint Anchor Point Offers Simplified Rooftop Safety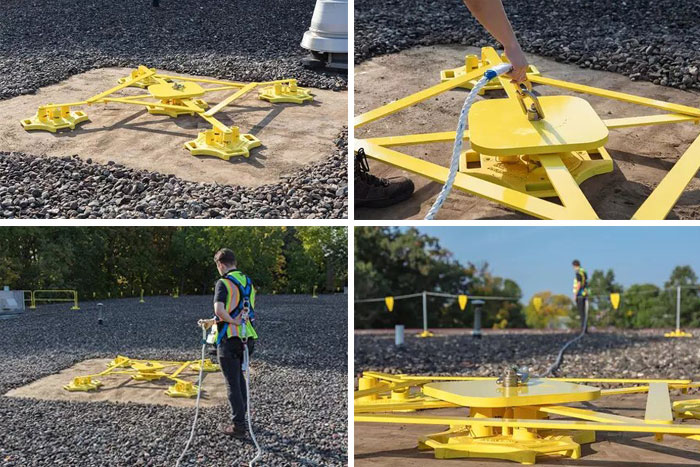 BlueWater, an industry-leading supplier of OSHA-compliant fall safety solutions, announced today the launch of its new Mobile Fall Restraint Anchor Point, a non-penetrating safety solution for active fall restraint on flat roofs. A division of Tractel, BlueWater has been globally recognized for innovative fall safety solutions for over 20 years.

The free-standing Mobile Fall Restraint Anchor Point provides worker safety on flat roofs made of EPDM, TPO, PVC, Fibertite, asphalt, or concrete, with a maximum slope of four degrees. As a non-penetrating anchor, it is both portable and does not compromise the integrity of the rooftop itself. Similar to other BlueWater products, the new anchor point meets OSHA and ANSI standards and is simple to assemble, requiring no tools. It comes with a swivel and pivoting attachment ring, capable of a 360-degree swivel and 180-degree pivot with a 4000 lb. capacity. The Mobile Fall Restraint Anchor Point is rated for one worker up to 310 lbs. with equipment, and has a total unit weight of 672 lbs.

"The Mobile Fall Restraint Anchor Point is the latest in long line of innovative, easy-to-use BlueWater products that put worker safety first without compromising quality or impacting productivity," said Scott Friedman, General Manager & VP of Sales. "This particular product offers convenience, versality, and durability so our customers can stay safe while still focusing on the job at hand."

By continuing to provide a wide variety of OSHA-compliant safety solutions, guidance, and easily integrated upgrades, BlueWater helps their customers remain OSHA-compliant, keeping their workers safe, and productivity at the highest possible levels.
@BlueWaterMfg #BlueWaterMfg #skylight #osha #safety

For other relevant searches, you might want to try: