architecture - engineering - construction
Ruskin® introduces TDP05K advanced thermal dispersion air measurement system measuring with industry-leading maximum 128 sensors
The Ruskin® TDP05K advanced thermal dispersion air measurement system for air flow and temperature measuring averages multiple velocity and temperature points within the duct or plenum—arriving at the most accurate air measurements possible for demanding applications.
Each airfoil-shaped probe – the only shape of its kind in the industry – can have up to eight moisture-resistant flex sensors. Users can specify up to 16 probes for any given opening, providing a maximum of 128 sensing points, each capable of measuring a velocity range from 0 to 5,000 fpm. Sensors are calibrated at 25 points. The primary probe replaces the transmitter, simplifying installation. Probes are daisy-chained together – wired from probe to probe – eliminating proprietary wire connections between each probe and a transmitter box.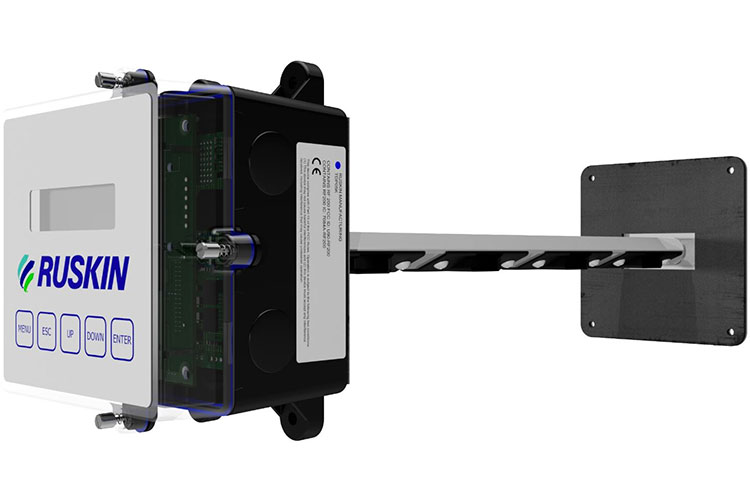 Ruskin TDP05K advanced thermal dispersion air measurement system
Analog outputs report air flow and temperature. A wireless remote display option duplicates all functions of the primary probe's display – simplifying setup – and can be installed up to 200 feet away. The primary remote controller or remote display can be wired on the probe network up to 500 feet away from the installed air measurement station's location. BACnet is standard on every TDP05K.
Additionally, the TDP05K advanced thermal dispersion air measurement system is factory-tested and calibrated for out-of-the-box accuracy. The system uses thermal dispersion technology to measure air flow within +/- 2 percent of the reading. It also boasts installed accuracy of +/- 3 percent when installed per installation guidelines. The TDP05K advanced thermal dispersion air measurement system utilizes the latest energy-saving technology to consume less power than other thermal dispersion devices on the market. The air foil-shaped probe design ensures lower pressure drop and less noise than other probe designs.
The TDP05K's hinged, weather-resistant, vented NEMA1 or NEMA4 enclosure provides liquid-tight construction preventing humidity or moisture accumulation and assuring reliability for the greatest variety of indoor and outdoor applications. Probes can be installed in square, round or oval ducts and plenums.

For other relevant searches, you might want to try: