architecture - engineering - construction
Ruskin life safety dampers available for UL Design I503 horizontal installation
The Ruskin® portfolio of life safety solutions includes more than 70 models of 1½-hour rated fire and combination fire/smoke dampers that can be mounted horizontally in UL design I503. The I503 design is a two-hour fire-rated protective membrane made from steel studs and gypsum board. Until recently, UL555 fire dampers were only to be applied in concrete/masonry construction for horizontal applications.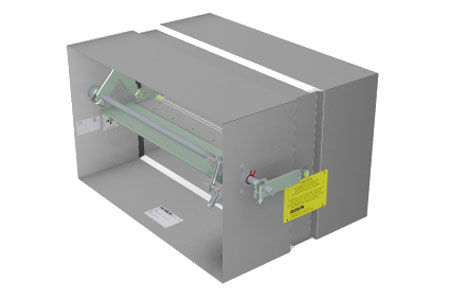 "The I503 design provides mechanical engineers and contractors with an alternative method of construction for the top or bottom of rated shaft penetrations when applying Ruskin UL dampers," said Michael Coyazo, Ruskin product manager.

Combined with the flexibility that UL design I503 offers, the Ruskin FSD-LP series provides the most cost-effective energy saving choice for building owners for its superb airflow performance. In addition, the Ruskin DFD-LP provides excellent airflow performance along with installation and maintenance-friendly features.

Ruskin UL-listed solutions are available with a variety of standard features and labor-saving options.

For other relevant searches, you might want to try: