architecture - engineering - construction
News
Seton Shares Expertise and Product Information in New Pipe and Valve Marking Reference Guide
New Guide Also Features Videos and Information about Seton's Contractor Services.

Seton, a leading supplier of safety and identification products, has introduced a new reference guide dedicated to its line of pipe and valve marking solutions.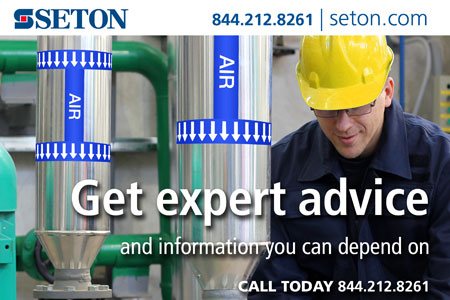 Seton's New Reference Guide Provides Information about Pipe and Valve Marking Solutions
The 36-page reference guide offers expert advice, along with product information, about Seton's vast selection of top quality pipe markers, valve tags, safety signs and lockout tags, and more.

Customers can learn about the ASME (ANSI) Standard A13.1-2015 for pipe identification, and everything they need to know to choose the right pipe marker for every job—from size, wording, color, and proper marker placement. The guide also features product information on valve tags, nameplates, as well as confined space products and worksite signs.

The main section of the guide also contains videos, including How to Provide a Safe Environment using Pipe & Valve Marking and How to Organize Your Entire Pipe Marking Project Effortlessly. Product submittals/specification sheets are just a click away.

"We know that effective and efficient pipe marking is essential to a successful job. We created this new reference guide as a resource for our customers to count on when making their pipe marking decisions," said Jeff Lublin, Construction Industry Manager for Seton. "We always encourage our customers to contact us when they have questions. But this digital catalog makes it easy for them to conduct some research on their own."

Seton's new contractor services are also featured in the reference guide. From free submittals to a take-off service and a project packaging service, customers can learn how these services can help them keep their jobs on time and on budget.

View the new reference guide.
For other relevant searches, you might want to try: