architecture - engineering - construction
Snow Bird: a Strong & Versatile Snow Guard for 18 Roof Types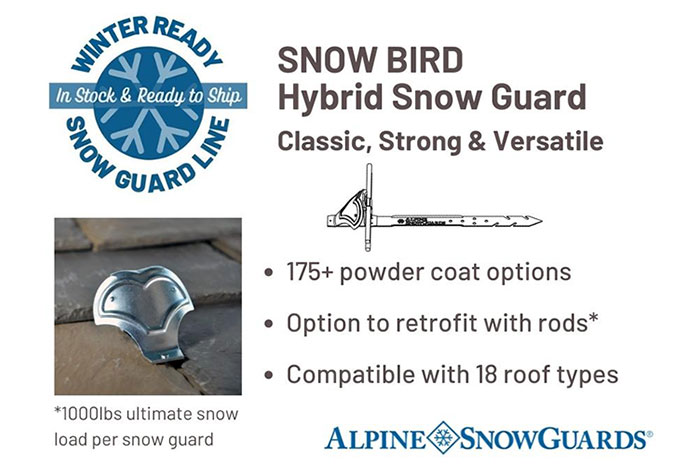 Alpine SnowGuards' Snow Bird is a top 10 best-selling snow guard. Its name harkens to when snow guards closely resembled birds. Alpine streamlined the classic design and brought a stronger and more versatile product to today's market. Learn more about Snow Birds' ideal roof types, strengths and performance testing. Be "Winter Ready" with Snow Bird Snow Guards – in stock and ready to ship!
Best Snow Guard for Synthetic Slate & Shake
Snow Birds are one of Alpine's best products for synthetic slate and shake. Any shingle over 3/8" thick needs a taller snow guard like Snow Bird, whether it's interlocking or not. Its height exposes more of the snow guard above the shingle. This creates much needed extra friction on the roof surface.

Overall, the winged design of Alpine's Snow Bird and its 18" strap length make it an ideal snow guard for 18 roof types:
New / Existing Slate
New / Existing Synthetic Slate or Shake
New / Existing Composition Shingle
New / Existing Cedar Shingle
New / Existing Flat Tile
New / Existing French Tile
New / Existing Spanish Tile New / Existing Rounded Tile
Optional Rods for Optimum Strength
Alpine's Snow Bird is a "hybrid" snow guard design. It was designed as pad-style but an engineering innovation transforms it into pipe-style when retrofit with optional rods. The rods can be installed before or after roof construction. Non-interlocking synthetics can also use Snow Bird with the rods. Pipe-style systems, in general, provide the strongest snow management capabilities.
More Snow Bird Strengths
Testing shows a single Snow Bird in stainless steel or copper plated stainless steel* manages 1,000lb ultimate snow load
Effectively manages snow on roof pitches up to 16:12
Extensively performance tested at our in-house facility
Pairs with dozens of roofing manufacturers
Can be powder coated in 92+ colors
View Cut Sheets, Revit Files & More
Snow Bird was introduced in March 2021 and is available in galvanized steel and custom powder-coated galvanized steel options, pre-powder coated dark bronze galvanized steel, brass and copper-plated stainless steel*. View the Snow Bird product page for cut sheets, Revit files and more.

*Copper-plated parts are sealed to prevent permanent discoloration during the production process. This sealant inhibits the natural patina process for 2-3 years.
Snow Guard Calculator
Snow Bird is in stock and ready to ship! Sign up for Alpine's Snow Guard Calculator and receive project-specific pricing, access to a comparison tool for budgeting and research, and more.
Winter Ready Snow Guard Lead Times
Check out this season's snow guard lead times and get "Winter Ready!" This short list of best-selling snow guards and lead times will be updated frequently throughout the season.
@AlpineSnowGrds #AlpineSnowGuards #SnowGuards #SnowManagement

For other relevant searches, you might want to try: