architecture - engineering - construction
Solar Panel Bird Deterrent Kit
The solar panel bird deterrent kit is designed to prevent pest birds from accessing the area beneath solar arrays. Pest birds will nest under the solar array, creating a huge mess, causing damage and costly repairs and clean-up. Protect wiring systems, solar panels and your roof with the solar panel bird deterrent kit.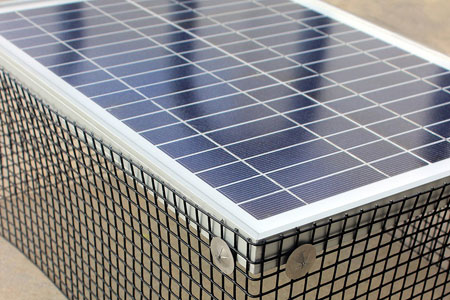 The solar clips do not pierce the solar panels; the system is designed to protect the integrity of expensive solar arrays. The solar panel bird deterrent kit simply creates a physical barrier to keep birds from accessing and nesting in the area beneath the solar arrays.

The wire mesh is precut to fit 5' x 8" to conveniently fit panels allowing for more efficient installation. The wire mesh is also easily removable for service or repair to the solar panels.

Features:

Custom bracket and attachment system
Binds cage of array without drilling or penetrating modules
Easy Installation! Takes only a few hours
Almost invisible
This solar panel kit will cover a standard 3kW system (2 rows of 6 panels each - 12 panels total installed in a portrait orientation).
The kit includes:
35 solar clips
10 hardware cloth (wire mesh) panels that are precut to 5' x 8".

For other relevant searches, you might want to try: