architecture - engineering - construction
News
Sound Rated Doors
AMPCO Doors introduces Sound Rated Doors (STC) to its product offerings. Our STC Doors are 1-3/4" thick and are made of a proprietary core of variable density natural fiber panel systems and passive noise reduction panels.

Doors are acoustically tested and rated according ASTM E90 for an STC classification. This testing quantifies the acoustic performance of different core designs.

In addition, some doors are fire tested in accordance with UL10C. Some STC doors successfully meet the UL10C test for a 45-minute burn rating.

*Unlike other STC doors on the market AMPCO's STC doors do not contain any LEAD.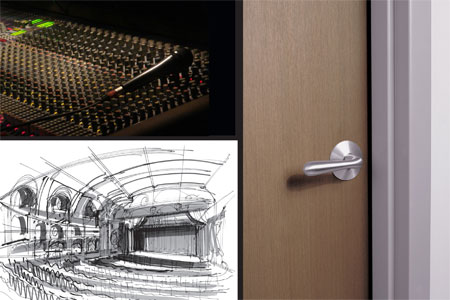 Performance:
Available in STC 41, 42, 45 and 46 ratings
Available in High Pressure Laminate or Wood Veneer
Designed for 20 minute fire ratings
Available in 45 minute fire rating with a 37, 38, 39 and 40 STC rating
Benefits:
Standard hollow metal frames may be used
Economic alternative to traditional acoustic doors
Uses components made from rapidly renewable fibers
All door cores have no added urea-formaldehyde
Available in High Pressure Laminate and Wood Veneer
Proprietary sound rated core. Excellent when sound containment is needed such as Recording Studios, School Auditoriums, Hotel Entry Doors, etc….
Features:
Thickness: 1-3/4" (± 1/16")
Stile and Top Rail- 1- 1/4" SCL. Bottom Rail- 5" SCL
Vision Panels: Not available.
Core: Proprietary core (SCL outer ply)
Interior Blocking: As required. 5" Bottom rail is standard.
Adhesive: Type I or Type II, by specification, between faces and core/frame components. Formulated using no urea formaldehyde.
Assembly: Bonded core and frame assembly Warranty: One year from date of manufacture. For original installation only.
Shipped complete with AMPCO's gasket and drop seal system.
Download Sound Rated Doors Brochure
For other relevant searches, you might want to try: