architecture - engineering - construction
Square Stainless Steel Posts w/ Wood Rail - San Francisco, CA
This line of stainless steel cable railing frame components offers an angular alternative to the Stainless Steel Round product line. These square posts are slightly thinner than our aluminum posts and boast the unmistakable luster of marine grade stainless steel.

For the top rail, we have an incredibly thin rectangular option that's easily our slightest top rail yet! Pair this post and rail option together or swap one out with Stainless Steel Round for a more variable look. These posts also pair particularly well with a wood top rail.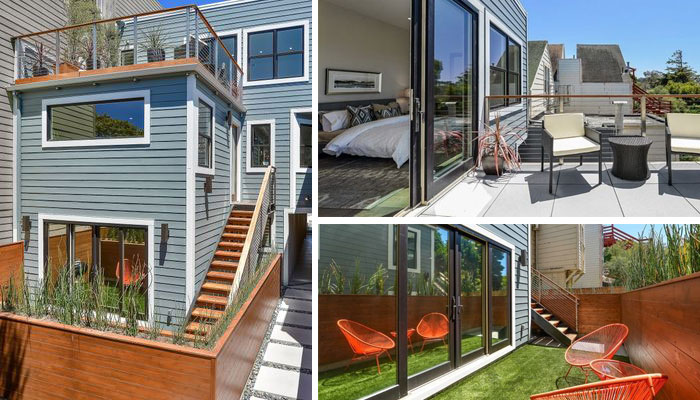 System and Shape : CableView™ Stainless Square
Top Rail : Customer-Supplied
Mounting Style : Fascia Mounted Posts
Fitting Hardware : Field Swaged Assemblies

Features and Benefits
Marine Grade Stainless Steel is strong and resilient, for a long-lasting railing.
Low-maintenance and resistant to corrosion, making it ideal for coastal areas and other harsh environments.
Brushed finish enhances the natural luster of stainless steel.
Posts attach directly to customer top rail.
Square post shape is more angular and industrial than round.
Fascia mount posts are attached to the side, rather than surface of the deck, keeping the area open and spacious.
Field assemblies have a low-profile look with no bulky turnbuckle.
Angled Stair Washers allow the field/factory assemblies to properly handle the stair sections of this railing.
@SCRrep #SCRrep

For other relevant searches, you might want to try: