architecture - engineering - construction
StonePly for Elevator Interiors - Padre Hotel, Bakersfield, CA
The Padre Hotel first opened its doors to guests in 1928. It is an eight-story that stands in the historic district of Bakersfield, CA. With a storied and colorful past, the Padre was a Bakersfield landmark, even after its doors and windows were long shuttered.

For years the building sat vacant, awaiting a fate that some believed would be delivered with a wrecking ball. But an $18 million investment in renovation brought the historic landmark back to life. The hotel reopened in February 2010. StonePly panels of Cararra Marble line the walls of the elevators that carry the guest to their rooms.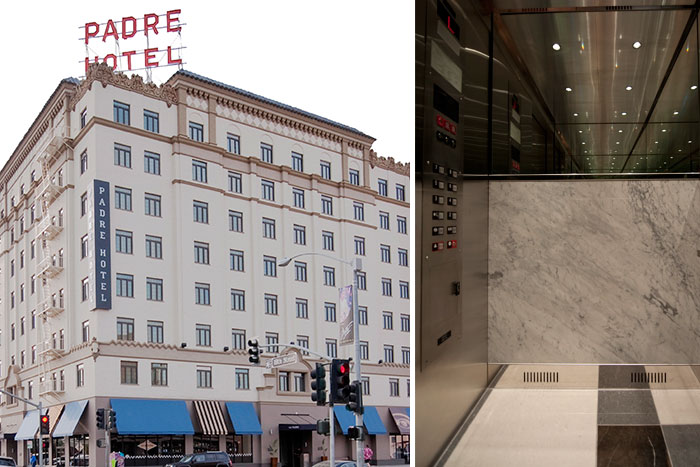 Elevator Renovations
For elevator renovation, the lightweight, prefabricated StonePly panels can be easily carried in and quickly installed with minimal downtime. With the simplified StonePly system, the stone installation can be handled by carpenters or handymen.
New Elevator Construction
For new elevator construction, the production of the cab shell can be separated from the production of the walls and floor. This allows for both to progress simultaneously and be assembled on site. Complex cab designs can be installed after completion of the elevator cab shell.
Installation
For the walls of the elevator, StonePly stone panels are easily installed with Z-clips. With a lightweight, aluminum honeycomb backing, installation of the wall panels is a snap. The stone panels can even be manufactured with the attachment hardware pre-installed, reducing time, cost, and complexity in the field.
StonePly panels can be installed on the floor of the elevator cab as well. The floor is typically composed of a quarter inch of plywood, adhered to the metal floor of the cab with screws and adhesive. The StonePly stone panels are then mounted with adhesive or concealed tabs.
#StonePly #StonePlyHoneycomb #RealStone #NaturalStone

For other relevant searches, you might want to try: