architecture - engineering - construction
About Site Furnishings
Site Furnishings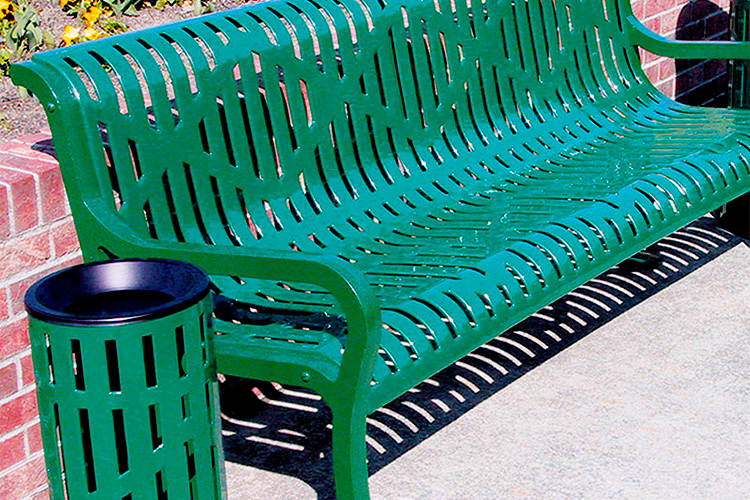 Commercial Site Furnishings
Enhance your outdoor public spaces
We have a wide selection of beautiful, durable chairs, stools, benches, tables, and some all-in-one table-and-bench designs, including a multi-color kids' edition! We also have matching umbrellas, planters, bike racks, grills, trash and cigarette receptacles, and other accessories.
The benches are available in several different shapes and styles, so you'll be sure to find the one that's right for your site. We can add brand or logo lettering and graphics to your site furnishings with your name, company, logo, or insignia.
Whatever options you select for your site, all of your pieces will match, creating a harmoniously coordinated look.
We even offer products made of wood, for a natural, country, or rustic look. Our wood products are available in a variety of wood variations, including oak, pine and mahogany. The wood pieces are all finished to prevent splintering and protect from water damage and rot. The metal pieces and bolts are all coated with a protective layer to prevent corrosion.
Residential Site Furnishings
Create a comfortable and forward thinking design with long lasting commercial grade site furnishings
TerraCast® has a wide selection of chairs, stools, benches, tables, and some all-in-one designs, including a multi-color kids' edition! These items are available in a rainbow of colors, and several different shapes and styles, so you'll be sure to find the one that's right for you.
We can add personalized lettering and graphics, if you want to brand your furnishings with your family name or favorite quote. You could have your kids' names emblazoned on their seats!
We also have some commercial grade park-grills. If you love to grill, get one of these beauties for your backyard!
We even offer products made of wood. Our wood products come in a variety of wood variations, including oak, pine and mahogany. We even do faux wood, or recycled lumber!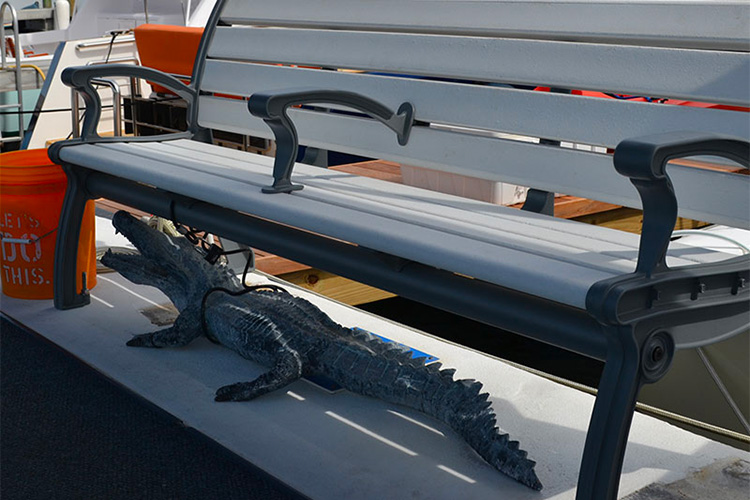 Benches
We have a bench to fit most commercial landscaping application
TerraCast®'s personalized metal benches feature custom wording and logos manufactured into the bench. They allow for personalization to be seen in a second color to that of the main product. Our benches have a unique pattern featuring diamond shapes crisscrossing 11-gauge vertical slats and low-profile arms for added comfort. Pre-drilled holes make installation a snap. A variety of thermoplastic color coatings protect the benches from graffiti.
We also carry a line of benches constructed of maintenance-free, 100% recycled plastic for durability. The stylish frames are splinter free and will never rust, corrode, rot, need painting or sealing.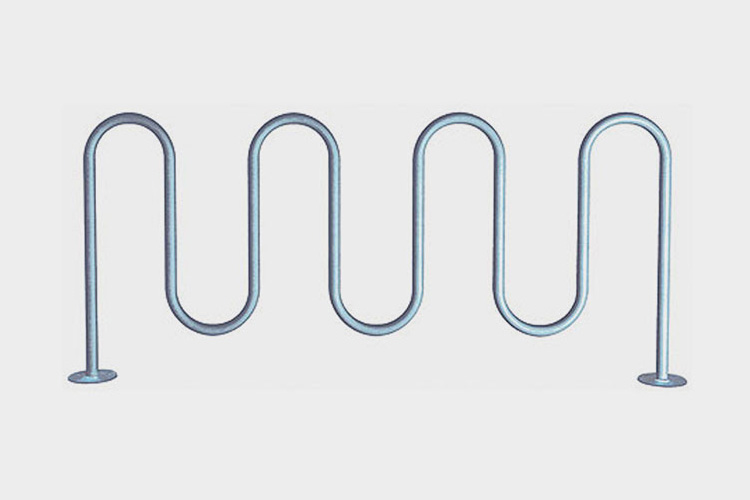 Bike Racks
More than ever, bike racks are needed to facilitate the ever growing trend of bicycle riding
TerraCast®'s line of bike racks is offered in a variety of sizes and finishes to meet your needs. We have the ability to custom build one to your specs. Our bike racks are built using steel construction and they are available in galvanized, black powder coat or thermoplastic finish. Thermoplastic coating allows for an easy repair of cuts and scratches with an industrial heat gun. Optional cover caps give a finished look to your bike rack.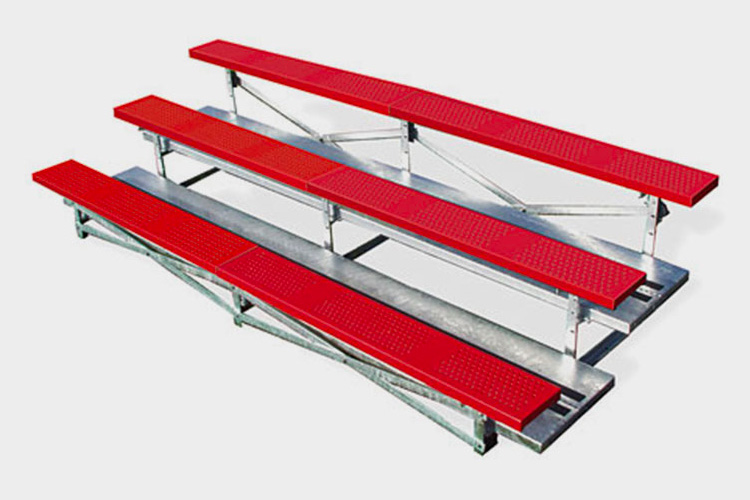 Bleachers
Our bleachers are constructed for maximum durability for your multi-person seating needs
TerraCast®'s line of bleachers is a perfect way of maximizing the number of seats in a particular area. Constructed with aluminum seating on a galvanized steel frame structure, our bleachers are perfect for both indoor and outdoor use for stadiums, gyms, and many more. The bleaches come in 3 and 5 row versions. Double footboards and guard rail options are available. The seats can be powder coated in a variety of different colors to match our receptacles.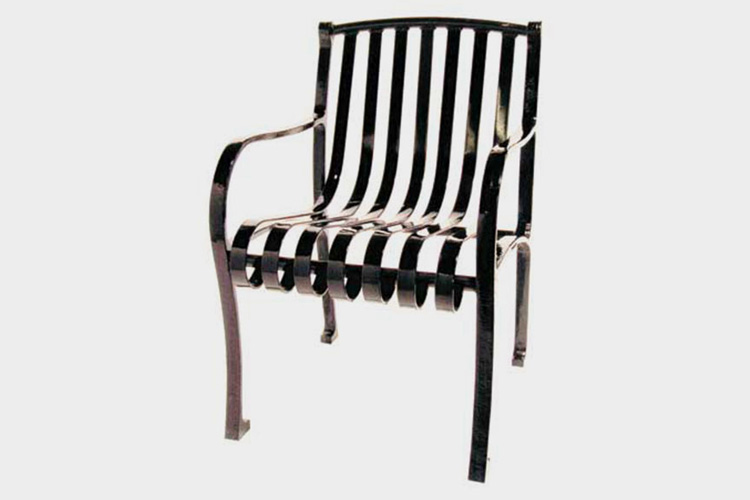 Chairs
Our commercial grade chairs are made strong for outdoor use
TerraCast®'s line of chairs is perfect for outdoor cafés, recreational dining and food court use. Their sturdy construction and substantial weight mean that they won't blow away easily. They are stackable for easy storage and feature plastic buttons for ease of stacking. They are available in a personalized model with words or logos on the back to match your personalized receptacles.
The Northgate model is the newest style in the personalized line of attractive streetscape and hotel chairs. The arched back and personalized logo add nice touches to complete your outdoor decor. All chairs are available in a variety of colors with thermoplastic finish.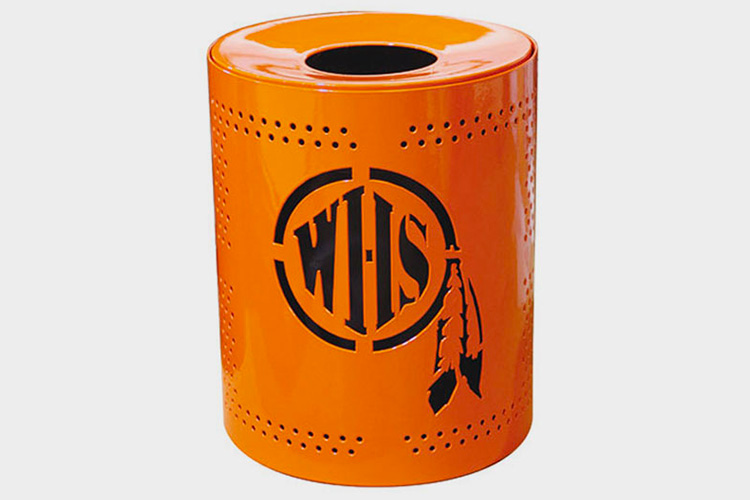 Receptacles
Our commercial outdoor receptacles have many styles and are built to last
TerraCast®'s receptacles come in a variety of patterns, sizes and colors that matches our line of benches. Made from expanded steel and coated with thermoplastic for durability, this product is ideal for heavy traffic areas such as schools, public areas, bus stops and many more. The receptacle can be mounted through the tabs placed on the bottom inside rim or with an alternative mount.
Our receptacles can be personalized with custom wording or logos to match your personalized benches. The second color assures that your message will be displayed to its fullest advantage.
Tables
Commercial grade outdoor tables built for durability and to match any property style
TerraCast®'s standard picnic tables have plenty of room to seat large parties. We coat all our metal tables with a thermoplastic coating for years of sustained use. Our thermoplastic coating makes our tables easy to maintain and protect from graffiti. Tables are also available in ADA compliant option.
Our line of plastic tables is made with 100% recycled material. They are maintenance free and impervious to weather and insects. They will not crack, rot, or require painting. The molded in color of the plastic lumber in this traditional design makes this table attractive in any setting.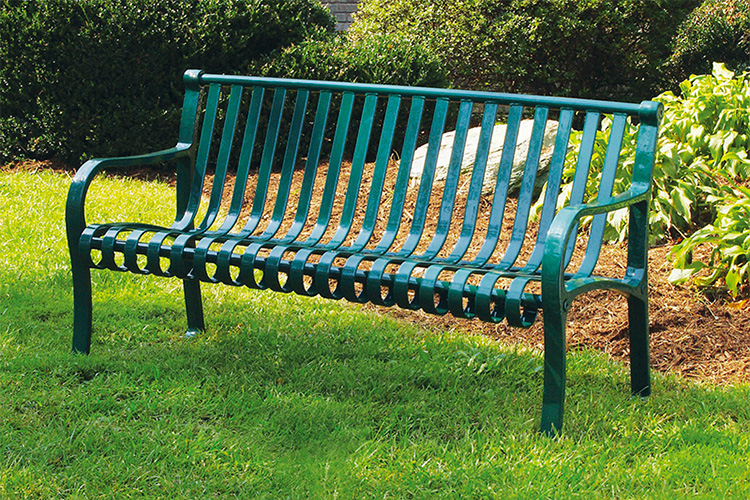 ADA Compliant Products
Products meeting the Americans with Disabilities Act guidelines
Commercial businesses in the US are required to follow ADA requirements in regards to many facets of design and landscaping, including ADA compliance for benches. The ADA requirements for benches located in dressing rooms, gyms, hospitals and so forth vary from the suggested guidelines implemented for outdoor benches. These discrepancies often confuse people and lead to the institution of outdoor benches that are not functional for anyone. Allow us to help clear up the confusion so that you can create friendly site furnishings for people of all mobility.

Brochures | 3-Part CSI specifications
News archive:
TerraCast Tables Made With 100% Recycled Material (Oct 21, 2021)
TerraCast Residential Site Furnishings (Oct 28, 2020)
ADA Compliant Benches – Here's What You Need to Know (Jan 16, 2020)
02870 - Site Furnishing
12 - Furnishings
12 46 13 - Ash Receptacles
12 46 29 - Vases
12 46 33 - Waste Receptacles
12 60 00 - Multiple Seating
12 65 00 - Multiple-Use Fixed Seating
12 67 00 - Pews and Benches
12 67 23 - Benches
12 68 00 - Seat and Table Assemblies
12 93 00 - Site Furnishings
12 93 13 - Bicycle Racks
32 94 33 - Planters