architecture - engineering - construction
The Six Major Benefits of Aluminum Skylights and Curtain Walls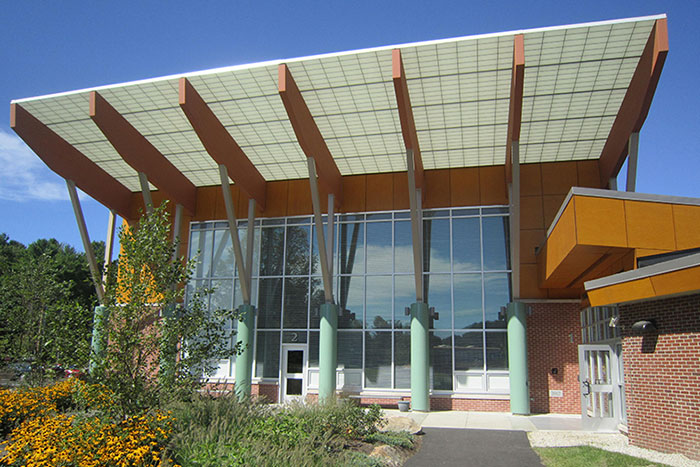 If you've ever come face-to-face with a shark while shark cage diving, you probably have aluminum to thank for not turning into dinner.

That's because most of these life-saving enclosures are made from aluminum, a lightweight, strong, yet flexible material that provides sleek, aesthetic appeal on one hand and the ability to handle a 1,000 pounds-per-square-inch (PSI) shark bite on the other.

"You can make aluminum as strong as you want," says tourism guide James Moskito in Popular Mechanics. "The sharks can't bend the bars. They might leave a tooth scratch."

It's partly because of aluminum's uncanny strength that the "most abundant metal in the Earth's crust" has become a go-to building material for skylights, curtain walls, and custom sun shading structures. But there are plenty of other reasons why aluminum (also known as "aluminium") makes a great construction material used in most buildings around the world.
The history and uses of aluminum
Aluminum's pure form was first isolated by the Danish physicist Hans Christian almost 200 years ago, but it wasn't until the late 19th and early 20th centuries that producing the metal in large quantities became affordable.

Since then, aluminum has become a vital component of a huge number of products other than building materials: High-strength aluminum alloys (aluminum can be strengthened further through processes such as hot and cold rolling) are used in everything from automobiles, to residential construction, to the world's tallest buildings, to NASA's space shuttle program and Humvees for the U.S. Army. Aluminum even comprises 80 percent of the airframe of the F-16 fighter jet.
Benefits of aluminum as a building material
Aluminum is ubiquitous in construction – 20 percent of all aluminum produced is used in buildings – because it's almost the perfect building material. It's lighter than steel, flexible and easily shaped into virtually any configuration, 100 percent recyclable, and doesn't corrode when exposed to water. Here are six of aluminum's biggest benefits in more detail.

1) It's lightweight. According to Virginia-based The Aluminum Association, aluminum is one-third the weight of steel and can be made even stronger than the latter in some cases (7,000-series aluminum alloys can withstand pressure of up to 72,000 PSI). Aluminum alloys have high strength-to-weight ratios. Its lightweight nature makes aluminum cheaper and easier to transport, and less onerous (and safer) for building crews on the job site.

2) It's strong. As we already mentioned, aluminum more than carries its weight in the strength department, making it a cost-effective material for architects who need to meet specific performance requirements. Aluminum skylights can generally handle higher snow and other weight loads than those made from synthetic plastic. "Pound for pound," says Alan Mulally, Ford Motor Co.'s former CEO, "aluminum is stronger than steel."

3) It's durable. Aluminum's thin, invisible oxide skin doesn't require constant re-finishing, doesn't stain easily, and lasts for decades. Because it's resistant to UV radiation it generally holds its color over the long term better than some other building materials. "Aluminum is highly resistant to weathering, even in industrial atmospheres that often corrode other metals," says materials sciences organization ASM International.

4) It handles any weather condition. Aluminum doesn't corrode (it's a non-ferrous metal, meaning it contains practically no iron) or rot in wet conditions, nor will it warp or expand in extreme outdoor heat.

5) It's versatile. Aluminum is relatively easy to work with and install, and is an ideal design material: Its malleability means it's easily manipulated into virtually any custom shape or configuration.

6) It's environmentally friendly. Although aluminum extraction is energy intensive, 100 percent of all aluminum used in skylights and curtain walls can be recycled. Aluminum skylights and curtain walls have a higher u-value (thermal value) than many other materials, and most fabricators recycle all their scrap metal. End-of-life recycling rates for aluminum materials are close to 100 percent.
Unicel Architectural's custom skylights and curtain walls: Durable, lightweight, strong and energy-efficient
Unicel Architectural's custom aluminum solutions include skylights, curtain walls, solar shading, trellises, and railings. Skylights and curtain walls feature unique framing that can meet the most stringent design and architectural requirements, including extremely large, customized skylights in commercial and institutional buildings.

Our aluminum skylight systems are well-known for their unique internal guttering system with pressure-equalized rain-screen technology, incorporating the largest water infiltration and condensation guttering solution available. They feature notched rafters and coped purlins that join seamlessly to accommodate gutter continuity and thermal expansion, for a plumbing system that doesn't require any sealant.

Unicel Architectural's aluminum curtain walls feature striking aesthetics combined with an integrated drainage system.

All skylight and curtain wall systems can be outfitted with our advanced Vision Control® louvered glazing technology (which can earn LEED credits and have been proven to reduce capital costs through heat and light control).

Contact us today to learn more about our skylight and curtain wall systems.
@UnicelArch #UnicelArch #UnicelArchitectural #Aluminum #Glass #Louvers #Glazing #Skylights

For other relevant searches, you might want to try: