architecture - engineering - construction
Top 4 Things to Think About When Specifying Fire and Smoke Curtains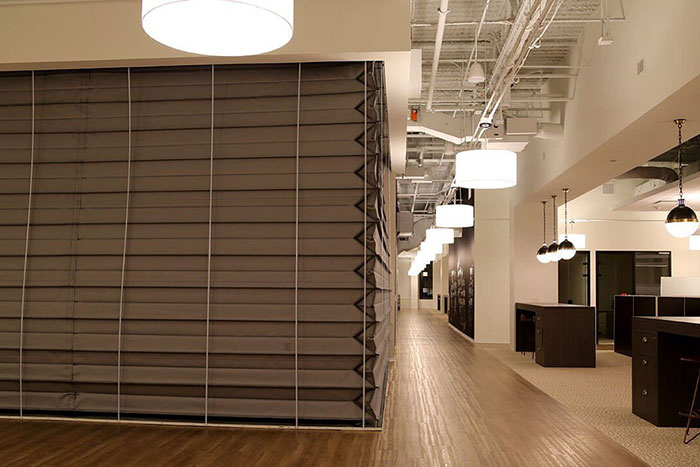 As an architect or designer, there is a lot riding on your recommendation of who should provide smoke and fire curtains on a project. The provider should have a single source responsibility for materials and labor while also providing service capabilities once the project is completed. In our 30 years of experience in this industry, here are the four key points we've found that need to be considered before making this vital decision.
1. Is This Product Approved by the AHJ?
The Authority Having Jurisdiction (AHJ) plays a crucial role in ensuring fire/life safety in buildings, and will vary according to who is responsible for enforcing the fire code in any given building. There may be more than one entity within a building's AHJ that will oversee the installation of the system and decide whether it provides adequate coverage for your project.

The AHJ may also vary in terms of what fire/life safety measures it oversees. A fire marshal will typically only oversee fire and life safety within a building, whereas an electrical inspector may oversee fire sprinkler systems from a different perspective, or an architect may oversee elements such as fire separation between buildings or any fire dampers present. Understanding who the AHJ is for your facility can provide greater insight into their priorities and concerns onsite, which is why it is crucial to understand exactly who fills this role.

There are fire inspectors, fire risk assessors, fire engineers, fire safety officers and fire wardens who play vital roles in fire safety at your facility. Their status as an AHJ varies depending on which authority or jurisdiction they're under and what they oversee. These AHJs must be notified of any work on fire-safety measures, whether it's installation or maintenance. They may even need to approve certain elements before work can begin. The AHJ is responsible for ensuring that the fire safety plan for the building you work in is up-to-date and adhered to, and when considering smoke and fire curtains for a building, cooperation with them is paramount.
 
2. Is This Product Going to Work and Be Dependable?
Life safety is not theoretical. You must have an Original Equipment Manufacturer (OEM) that is intimately involved in this industry and has a history of providing fire and smoke safety systems for all types of structures. The manufacturer's experience should include knowledge of installation and systems development:
Where has the equipment been tested?
Does the company have a record of industry acceptance?
Is the company the actual manufacturer, or are they re-branding other equipment?
If the product is rebranded, then what is the OEM's service history?
Do their systems provide thermal imaging cameras, and if not, what cameras are they compatible with?
Is periodic system testing part of their offering, and if not, is it available?
Is it possible to have visual access to the system components, especially the control panel?
What type of warranty is being offered, and can it be extended?
These are some concerns that need to be addressed before specifying any supplier for fire and smoke curtains.
3. Will This Product Get Me in Trouble?
What information will you base your system recommendation on? At minimum, the following guidelines should be considered:
The entire system should be made in America.
It should be tested to UL Standards and have associated documentation supporting its ability to fully comply with all U.S. fire and safety standards. The listing gives end users the peace of mind that a rigorous testing process was followed in order to ensure consumer safety. Another benefit of utilizing listed products is acceptance by major insurance companies.
The system should be UL-1784 compliant, which measures the resistance to air movement. This test is specifically for the NFPA Recommended Practice for the Installation of Smoke- and Draft-Control Door Assemblies, NFPA 105.
The door assemblies should have true manual egress where applicable. Particularly in the case of smoke protection on elevators, the curtain should open without unlatching velcro strips or moving between overlapping slits.
4. If There Is a Problem, Is There Local Support?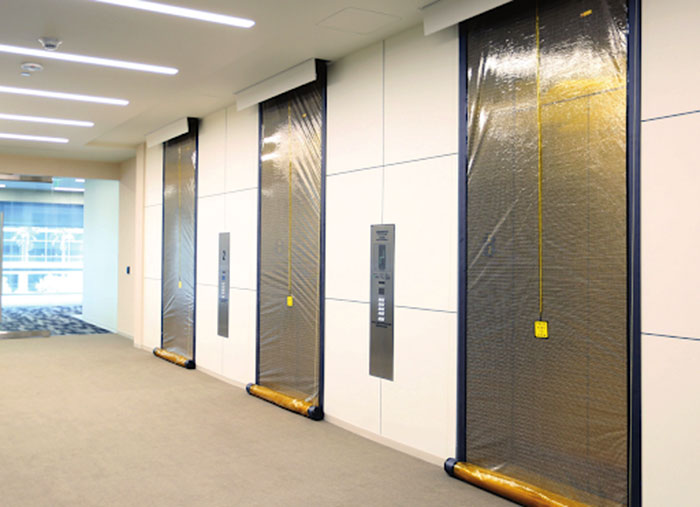 If there are issues with the system or any component in it, does the company have a full-time team of specialists available to come to the site to troubleshoot and resolve the issue? Any downtime that the fire and smoke curtain deployment system experiences equates to minutes or hours that the personnel in the building are subjected to potential danger.

A system offered by a central location — not a local distributor network — may not be able to be serviced either by the general contractor or the end-user of the product. This may result in a delayed response to installation needs or less-than-satisfactory customer service after the system is installed.

Another consideration is the initial testing requirements. The manufacturer will need to be onsite when the system is initially tested, which may prove difficult for an out-of-state supplier.
Smoke Guard Has a History of Providing State-of-the-Art Fire and Smoke Curtains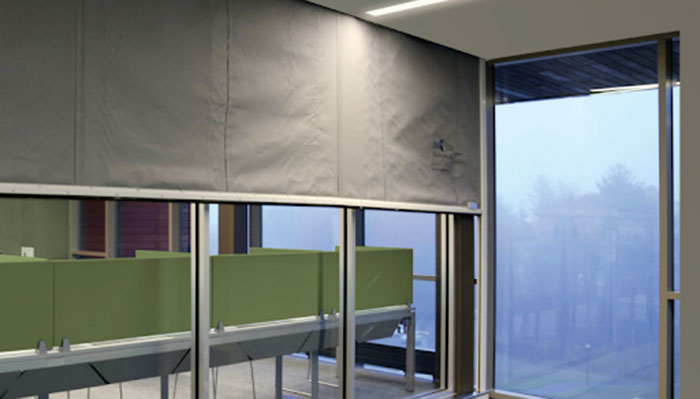 Smoke Guard provides innovative and aesthetically appealing fire and smoke protection systems to fit nearly any purpose and almost any area in your building.

Our curtain systems are highly flexible — both physically and during the application process. Our protective systems can cover nearly any opening, from small dimension dumbwaiters and pass-through counters to expansive atrium spaces and proscenium curtains for theater stage spaces.

Our complete range of systems meets the four criteria mentioned above and more. Contact us today and let us help you navigate the process of designing your next system.
@smokeguard #smokeguard #firesafety #firecurtain #smokecurtain

For other relevant searches, you might want to try: