architecture - engineering - construction
About Full Height Turnstiles
Full Height Turnstiles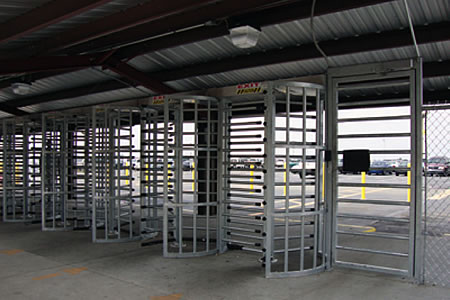 Your first line of defense occurs at the building perimeter. Full height turnstiles are a rugged, low-maintenance solution for the harshest outdoor conditions, acting as a deterrent against tailgating and unauthorized entry at your fence line. Building interiors can also benefit, and we offer transparent full height turnstiles designed for this purpose. Indoors or outdoors, expect a full height turnstile to deliver decades of trouble-free operation.
Turnlock 100
A rugged and completely updated full height turnstile ideal for perimeter security.
Turnlock 150 ASTG
A modern aluminum full height turnstile for perimeter security inside or under covered areas.
Turnlock 200 EL
Transparent full height turnstiles with narrow panels for use inside a building.

Brochures | 3-Part CSI specifications | CAD details
News archive:
Dallas Police HQ Installs New Layer of Perimeter Security with Boon Edam Turnstiles (Oct 18, 2021)
Boon Edam Launches New Full Height Turnstile Feature - Field Configurable Operation (Oct 09, 2013)
Boon Edam introduces new BoonTouch Universal Remote Control Panel for Turnstiles (Apr 15, 2013)
02820 - Fences and Gate
08400 - Entrances and Storefront
08410 - Metal-Framed Storefront
08450 - All-Glass Entrances and Storefront
08460 - Automatic Entrance Door
08470 - Revolving Entrance Door
10450 - Pedestrian Control Device
13700 - Security Access and Surveillance
08 41 00 - Entrances and Storefronts
08 41 13 - Aluminum-Framed Entrances and Storefronts
08 41 26 - All-Glass Entrances and Storefronts
08 42 29 - Automatic Entrances
08 42 33 - Revolving Door Entrances
08 42 33.13 - Security Revolving Door Entrances
11 14 00 - Pedestrian Control Equipment
11 14 13 - Pedestrian Gates
11 14 43 - Pedestrian Detection Equipment
11 14 53 - Pedestrian Security Equipment
28 10 00 - Electronic Access Control and Intrusion Detection
28 13 00 - Access Control
28 13 53 - Security Access Detection
28 16 00 - Intrusion Detection
32 31 00 - Fences and Gates