architecture - engineering - construction
About Plastic Barricades
Plastic Barricades

Type I, II and III Barricades
Pexco manufactures three different types of plastic barricades for use in urban work zones, highway construction, and public events.
---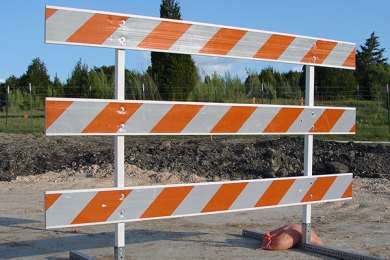 Our T3B™ Barricade Products are durable and lightweight; an entire assembly for an 8-foot Type III barricade weighs only 22 pounds!
---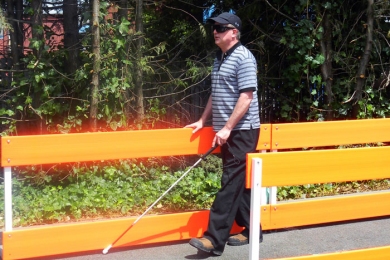 Pexco's TPAR Type II Barricade is an ADA, MUTCD, NCHRP 350, FULLY MASH 16 approved and compliant temporary traffic control device. It provides safe continuous guidance for pedestrians through urban work zones. Components are lightweight, quick to assemble and easy to store and transport.
---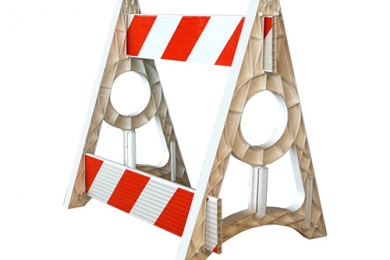 You have never seen anything quite like our O-Frame Barricade! It functions like a traditional A-Frame plastic barricade but it is more versatile. Perfect for public events, it features exceptional strength and a unique feature for branding.

Brochures | 3-Part CSI specifications | CAD details
01 55 26 - Traffic Control
01 56 00 - Temporary Barriers and Enclosures
01 56 23 - Temporary Barricades
01 56 33 - Temporary Security Barriers
03 48 13 - Precast Concrete Bollards
06 44 39 - Wood Posts and Columns
07 18 13 - Pedestrian Traffic Coatings
07 18 16 - Vehicular Traffic Coatings
07 72 13 - Manufactured Curbs
10 14 53 - Traffic Signage
10 14 53.13 - Transportation Reference Markers
10 40 00 - Safety Specialties
11 10 00 - Vehicle and Pedestrian Equipment
11 14 00 - Pedestrian Control Equipment
11 14 13 - Pedestrian Gates
11 14 13.13 - Portable Posts and Railings
11 14 53 - Pedestrian Security Equipment
11 53 33 - Emergency Safety Appliances
28 13 00 - Access Control
32 16 13 - Curbs and Gutters
32 31 00 - Fences and Gates
32 31 13 - Chain Link Fences and Gates
32 31 13.53 - High-Security Chain Link Fences and Gates
32 31 16 - Welded Wire Fences and Gates
32 31 26 - Wire Fences and Gates
32 39 13 - Manufactured Metal Bollards
34 41 13 - Traffic Signals
34 41 16 - Traffic Control Equipment
34 71 13 - Vehicle Barriers
34 71 13.13 - Vehicle Median Barriers
34 71 13.16 - Vehicle Crash Barriers
34 71 13.19 - Vehicle Traffic Barriers
34 71 13.29 - Vehicle Barrier Fenders
34 71 19 - Vehicle Delineators
34 71 19.13 - Fixed Vehicle Delineators
34 71 19.16 - Flexible Vehicle Delineators
34 75 13.13 - Active Vehicle Barriers