Top 5 Reasons to Incorporate Translucent Daylighting in Your Athletic Facility Design
Natural light plays a major role in regulating the body's circadian rhythm, and it is important that athletes whose performance relies heavily on their mind and body maintaining that rhythm get enough of it. However, not all environments are suitable for hosting outdoor practices and competitions. Some sports are also best played in a controlled indoor space. In these circumstances, translucent daylighting systems can help provide athletes with plenty of natural light during their indoor workouts in a way that is both practical and visually pleasing. Here are five reasons to incorporate translucent daylighting into your athletic facility design.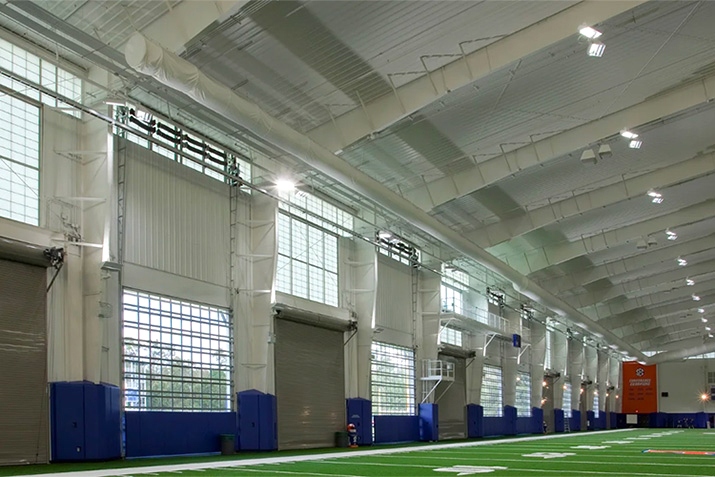 5 Problems Solved By Modern Projection Screen Technology
| | | |
| --- | --- | --- |
| | | Projection screen technology has been around for a long time. So long that it is easy to neglect projection in favor of the "new kid on the block" (relatively speaking at around 50 years old), flat panel displays. And while flat panels have advanced by leaps and bounds over the past few years, so have projection screens. Modern screen technology can be used successfully in more places than ever before. That includes places where flat panels still are not a good option. Here are 5 problems that can be solved thanks to modern projection screen technology: |
Learn the best security practices for corporate offices in live-fire demonstration [video]
| | | |
| --- | --- | --- |
| Learn the best security practices for corporate offices in this live-fire demonstration. #ballisticglass #bulletproof | | |
Recycled Planters, Light Poles, and Bases
| | | |
| --- | --- | --- |
| | | TerraCast® planters, PolySteel™ light poles, and light pole base covers are all manufactured using #4 linear-low density polyethylene (LLDPE) with up to 100% post-consumer recycled content. As we like to say, "our black is green," the standard black color we use contains a minimum of 90% post-consumer recycled content. In addition, the manufacturing process we use for these products, rotational molding (rotomolding), has an environmental advantage because it produces no scrap as all the materials can be 100% recycled. |
Shallow Mount Bollards - When and why choose shallow mount versus deep mount
| | | |
| --- | --- | --- |
| Shallow mount bollards are designed to combat the problematic fitting of traditional bollards which require deep foundations. Excavation and trenching can be expensive and time consuming, and below grade, pipes and utilities may prohibit installation. All shallow mount bollards are created to be installed at or near the surface, when compared to other bollards of their type or class. Impact protective bollards are typically installed deep into the substrate by three or more feet, with their length providing their crash tolerance. Shallow mount may be installed on a plate or 'biscuit' that's then linked to other bollards. Shallow mounts require just a fraction of the depth you would normally need, with depth requirements ranging from two feet to two inches! | | |
How to Get Rid of Pigeons: An In-Depth Guide to Pigeon Control
| | | |
| --- | --- | --- |
| | | Our expert guide will go over exactly how to get rid of pigeons and why you need to address the problem quickly. Pigeons are everywhere; every park, town square, outdoor café, loading dock, and sky rise ledge has its own friendly flock of pigeons bobbing and cooing the day away. While there's no denying the charm of the occasional pigeon, there's also no denying the total mess and health risks a mass of pigeons can cause. The following is a comprehensive pigeon guide; follow along and you'll understand the many troubles and difficulties pigeons cause and discover effective solutions for every kind of pigeon problem. |
Tungsten Shielding Keeps Radiation Exposure to Minimum
| | | |
| --- | --- | --- |
| Several applications require shielding from radiation where lead is not a feasible material. Tungsten heavy alloy provides an alternative to lead that is strong and highly customizable into precision components. With an approximately 1.7 times greater density than lead, tungsten guarantees radiation exposure is kept to a minimum. Tungsten's higher density means the material provides better gamma ray absorption and radiation shielding. Not only is tungsten thicker than lead, but it is also easily mechanically processed/machined and has high ductility and strength. Compared to lead, tungsten is eco-friendly due to its non-toxic properties, making it a more feasible option for use in medical environments. Further, tungsten is also preferred in industrial settings requiring radiati... | | |
The Most Attractive Temporary Office Wall Systems
The appearance of COVID-19 in 2020 turned the working world — along with the rest of the world — upside down. Offices that had been filled with employees and clients emptied in favor of a work-from-home model that we all had to figure out as we went. As people begin their long awaited return to the office, companies are working to ensure that everyone is safe and comfortable as they re-enter the workplace. One way to achieve this is to incorporate temporary walls in the office.
AECinfo.com - Your Source of Building Products Information