architecture - engineering - construction
65 Years of Authority in Air Control from Ruskin
Ruskin opened its doors for business on June 16, 1958, and for 65 years it has been an important name architects, engineers, and contractors have relied on to make buildings safer, more comfortable and energy efficient.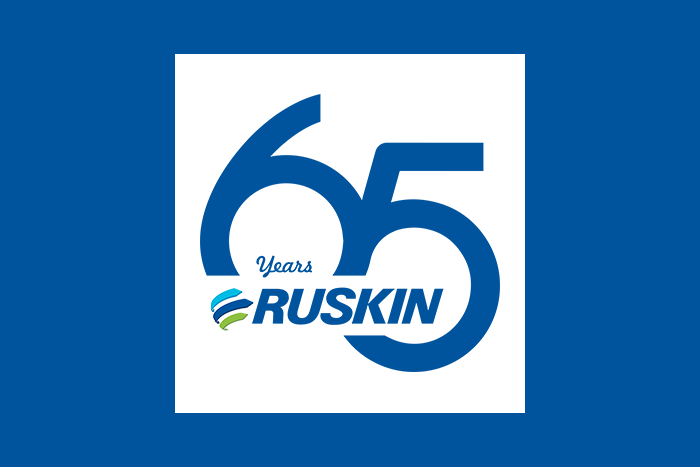 Ruskin was founded in the Ruskin Heights area of Kansas City from where it took its name by the original owners Charles D. Jones, Pat Murray and Ilus Davis, the Mayor of Kansas City. From these humble beginnings, with just a handful of employees building fire dampers, Ruskin has grown into one of the largest, most innovative manufacturers of air control solutions for the heating, ventilating, and air conditioning (HVAC) market. Ruskin is also a worldwide leader in industrial dampers for tunnel ventilation and has been specified on major projects throughout the world.

By having a network of over 150 representative offices, knowledgeable in Ruskin's products located nationwide, Ruskin can assist clients with every aspect of their HVAC project needs. This includes product selection, ordering and application. Ruskin is committed to providing the highest level of customer service.

Ruskin leads the industry by developing new and innovative solutions for air control processes in commercial and industrial applications. With a new larger advanced Air Movement and Control Association - AMCA accredited research and development test laboratory, Ruskin can carry out rigorous testing, ensuring that products meet and exceed customer requirements and industry standards.

As a pioneer for wind-driven rain test standards, Ruskin was the first manufacturer in the 1990s to receive louver product approval for use in Miami-Dade County, Florida following Hurricane Andrew. Ruskin's Hurricane and Wind-Driven Rain Louvers hold up under pressure in severe weather events by preventing and minimizing wind and rain damage. Ruskin was also the first to develop a FEMA rated grille for extreme weather conditions.

In 1983 Ruskin introduced to the world its now well-known CD60 and FSD60 dampers, which instantly became the gold standard for damper design. Following that, in 1989 Ruskin's dynamic curtain fire dampers and patented true-round combination fire/smoke dampers were introduced into the market. These designs revolutionized the safety and ease of damper installation.

Recent innovations include more effective sunshade models, new ceiling fire dampers, critical environment dampers, thinline louvers, NEMA 4X actuator shields, data center dampers, GenSet dampers and an expanded line of airflow measurement devices all developed with Ruskin's customers' needs in mind as a priority.

Ruskin's experienced engineering and operations teams provide quality products through a continued commitment to research and development.

Ruskin offers a complete line of air control products and supports them with quality design, testing, and precision manufacturing.
@ruskincompany #ruskincompany #AMCA #HVAC

For other relevant searches, you might want to try: