architecture - engineering - construction
Armstrong Adds MetalWorks Lay-In Ceiling Panels Specifically Designed for Use in its DynaMax Grid System
New additions provide an expanded portfolio of options when designing datacenters and other structural ceiling applications
Armstrong Ceiling & Wall Solutions has added MetalWorks™Lay-In ceiling panels to its portfolio of ceiling systems specifi cally designed for use with its DynaMax® suspension system. DynaMax is an aluminum structural grid system designed to support heavy point loads in data centers and other structural ceiling applications.

The new panels join a portfolio of other Armstrong ceiling solutions that offer coordinating, specially sized panels that integrate with DynaMax grid to create a complete ceiling system solution. Those ceilings include Calla®, Dune®, Ultima®, Ultima® AirAssure®, and Optima® PB Lay-in panels.

The metal additions provide architects and designers with an expanded portfolio of options when designing data centers and structural ceiling applications. The factory-fit ceiling panels also eliminate the need for contractors to field modify panels in standard suspension layouts.
Offer Aesthetic and Acoustic Benefits
Available in a sleek white metallic finish that is easy to clean, the new panels are offered in two standard sizes, 2' x 2' and 4' x 4' nominal. Environmentally, the panels are part of the Armstrong® Sustain™ portfolio that meets the most stringent industry sustainability compliance standards today.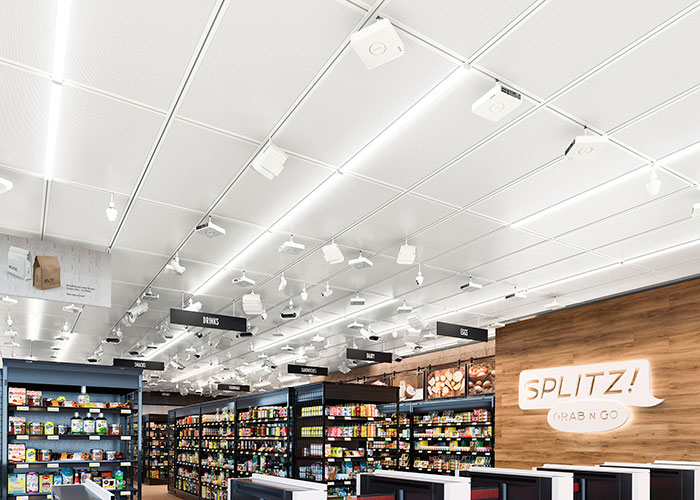 The panels are available in both perforated and unperforated versions. When installed in non-data center applications and backed with an acoustical infill, the perforated panels provide a Noise Reduction Coefficient (NRC) up to 0.85, meaning they absorb up to 85 percent of the noise that strikes them.
This acoustic performance is relevant in spaces such as grab-and-go convenience stores that need to suspend cameras and other equipment directly from structural grid.
@ArmstrongCeiling #ArmstrongCeiling

For other relevant searches, you might want to try: