architecture - engineering - construction
BlueWater Self-Closing Safety Gate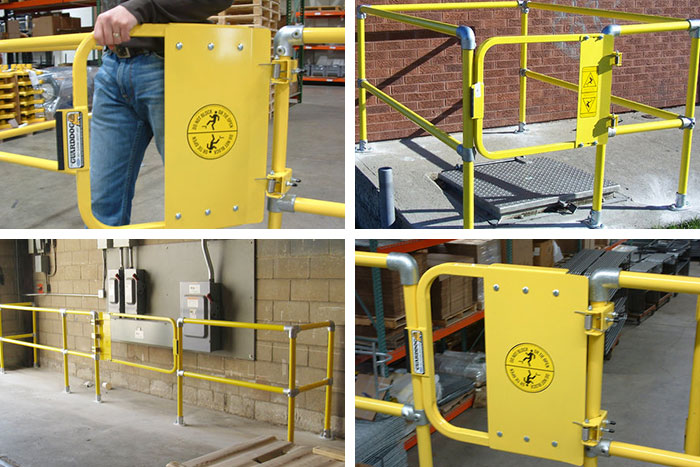 The BlueWater Industrial Self-Closing OSHA Ladder Safety Gate is tough, durable and best of all, economical, reliable, easy to install, and more closely matches the railings and their dimensional requirements provided for by Federal OSHA.

The gate arm is dimensioned to provide maximum opening coverage. When the gate is installed and the top rail is at the OSHA's recommended nominal height of 42", the bottom rail of the gate is positioned at a height of 21". This matches the OSHA mid-rail height for guardrails.

Our standard Universal Hinge Assembly is versatile, fitting various railing types up to 2'' O.D. or flat surface mounting. For railings which are larger or uniquely shaped, contact the factory, we are able to provide an adapter kit to fit many railing sizes. The self-closing feature employs two (2) Stainless Steel Torsion Springs. Each gate is capable of universal swing direction. Simply invert gate for opposite swing direction.

Installation is a fast!! Our gate comes fully assembled and includes U-bolts for standard installation. It requires only one 1/2'' wrench and 5 minutes of your time for installation.

As for options, the Ladder Safety Gate comes in 7 nominal sizes and is adjustable laterally up to 3-3/4'' (-1-1/4'' to +2-1/2'' of nominal size) to ensure the gate fits properly in your opening for maximum safety.

You have a choice of a mild steel gate with a Powder Coat Safety Yellow or Hot-dip Galvanized finish, or you can choose a Stainless Steel gate. Custom design and options may be available by contacting the factory.
@BlueWaterMfg #BlueWaterMfg #skylight #osha #safety

For other relevant searches, you might want to try: