architecture - engineering - construction
Combating Solar Heat Gain
Depending upon the orientation of a building, and the time of year, solar heat gain can be your best friend or your worst enemy. While solar heat gain can be welcome during winter months in cold climates, it's often a nightmare during the hottest part of the summer. Besides wreaking havoc on cooling systems, it can make building occupants downright hot and uncomfortable.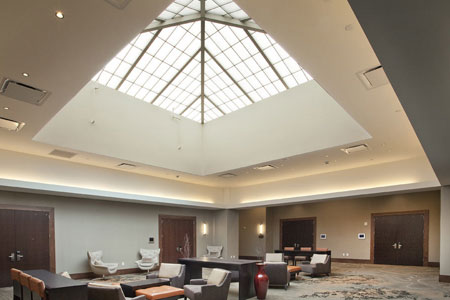 Luckily, there's an effective way to control solar heat gain while also providing diffuse natural light. Plus, it allows you to skip expensive interior and exterior shading devices. The solution? Translucent panel daylighting systems from Major. Our LightBasic™, Guardian 275® and Clima-Tite™ systems all provide low solar heat gain coefficients while still allowing natural light to enhance interior spaces. If you're still in need of views and ventilation control, we can handle that as well by incorporating fixed or operable windows into select translucent systems for unmatched versatility. As an example, our Guardian 275® 4-inch system offers SHGC numbers as low as .05, and the 2.75" systems as low as .06. (Solar Heat Gain Coefficient - or SHGC - measures how much heat from the sun is blocked and is expressed as a number between 0 and 1. The lower the SHGC, the more a solar heat gain is being blocked.)

While low solar heat gain numbers are a benefit to those in the south, buildings in the north can benefit from some solar gain during winter months. Major offers a wide range of insulation and sheet color options that can get you to the right balance for your particular project.

For other relevant searches, you might want to try: