architecture - engineering - construction
EFAMS: Air Measuring Station Product Update
We are excited to announce the immediate implementation of a product enhancement resulting from customer feedback. A firmware improvement to our electronic fan airflow measuring station (EFAMS) facilitates field calibration to meet site specific conditions.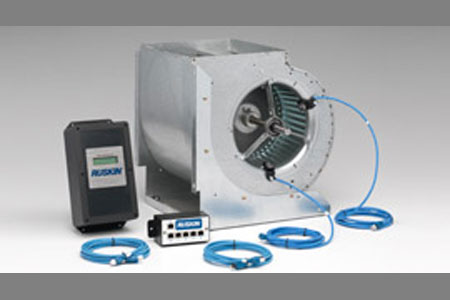 Ruskin's EFAMS electronic fan-inlet air measurement station utilizes thermal dispersion technology combined with low-pressure drop aerodynamic sensors to measure the airflow at the highest velocity point in the system. This lower pressure drop equates to lower cost of operation over the life of the building when compared to other fan inlet devices.

The Ruskin EFAMS features and benefits:

Can be retrofitted into existing systems where space does not exist for traditional air measurement devices.
Includes a minimum of two sensors, a router and transmitter box with LCD display showing both temperature and air flow velocity or volume in either FPM, CFM or Meters per second or Liters per second.
Easily field configured for any size fan.
The transmitter box provides two isolate 4-20 mA analog linear signal outputs representing measured air flow and temperature and shares the same platform as our EAMP, electronic air measurement probes.
Ruskin's unique patented design provides lower pressure drop and accurate measurement of fan inlet air flow and inlet temperature.
View Updated EFAMS Information

For other relevant searches, you might want to try: