architecture - engineering - construction
Historic Home in Greenwich Village: Haunts and Preservation
New York contains an assortment of historic buildings alongside sleek, modern structures. With the influx of new buildings, it is important to maintain the architectural integrity of older structures. From replacing interior metal grilles with new identical pieces to updating the exterior structure while maintaining the historic design, preserving historic homes is vital to protecting our state's history.

New York is a large tourist hub but often, residents experience its charm and never leave. This was the case for many residents of No. 14 West 10th Street. This Greenwich Village property has been a regular stop on ghost tours for years, with tourists hoping to catch a glimpse of some of the famous specters inside.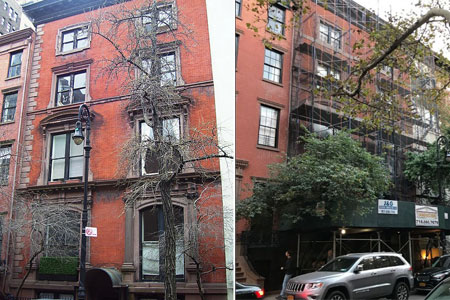 Classic Brick and Brownstone
Completed in 1855, this residence, with its brick and brownstone exterior, still looks very similar to its original design. According to the designation report for the Greenwich Village Historical District, written in 1969, No. 14 is "a very handsome Italianate house, of brick with elaborate brownstone window frames and quoins at the left side. It has, however, been altered to provide a small basement entrance between the two great parlor story windows." In the 1960s, the residence also featured elaborate iron handrails and areaways that were modern for the time.
Ghosts of No. 14 West 10th Street
This elegant property has been the host of 22 deaths and, according to many visitors, some spirits remain. Although 22 deaths over more than 160 years is not too dreadful, the property has been termed by many as "The House of Death."
he most famous resident of No. 14 West 10th Street was Mark Twain, less commonly known as Samuel Clemens. Twain resided in this home for one year between 1900-1901. Although Twain died in Connecticut, his ghost has reportedly been seen throughout New York City. One guest of No. 14 claimed to have seen his ghost who said, "My name is Clemens, and I has a problem here I gotta settle."
Jane Bryant Bartell recounts many hauntings from No. 14 in her memoir, Spindrift: Spray from a Psychic Sea, published in 1974. Jane and her husband, Fred, lived in a top-level apartment of No. 14. The supernatural occurrences began as harmless abnormalities–odd sounds and smells–but escalated with time. She reported her dog continually growling at a chair as if something dangerous was sitting on it, sounds of crashing glass, unavoidable odors, and a phantom man. Eventually, the couple hired a medium who discovered the spirits of an aborted baby and her mother, nineteen year-old Reenie Mallison, who claimed to have been born in 1848.
Preservation of Historic Properties in Greenwich Village
With time, buildings age and require restorative updates. It is important to preserve the historic charm of buildings like No. 14 West 10th Street. This structure has been a home to many since its origin, including its spectral residents.
The building has undergone several renovations throughout the years that have complied with preservation laws of their time. In 1937, it was converted from a large family home into 10 separate apartments. Even in 2017, No. 14 is undergoing an exterior facelift.
When remodeling a historic building, there are laws that must be followed. Andrew Berman, Executive Director of the Greenwich Village Society for Historic Preservation says, "Much of Greenwich Village lies within various designated historic districts or is individually landmarked, which means that the building is regulated by the NYC Landmarks Preservation Commission, a government agency. The regulation generally only applies to the outside of the building; however, with the inside only regulated in so far as ensuring that any changes do not impact the exterior look. Therefore, even for landmarked properties, people are free to make whatever changes they wish to the exterior. That said, we strongly encourage people to recognize the irreplaceable value of historic interior architectural detail, and to preserve and re-use it whenever practicable. We have seen some amazingly inventive renovations where early 19th century detail is retained but with very modern and contemporary update. And, of course, in some cases these two-hundred-year-old houses are quite well-preserved inside and out."
It's all in the details. The metalwork featured in historic homes provides a level of character that is unique to each property. Preserving the design is vital in keeping a home's historic charm alive. Our expert CNC Waterjet and Laser Cutting Services allow for an unlimited array of possibilities for custom metalwork to match and replace your historic home's existing designs.

For other relevant searches, you might want to try: